PLEASE CLICK TO DONATE TO OUR SITE!!!!
Guiding Light Characters
Description by Elizabeth
Phillip Granwell Spaulding
PLAYED BY:
Grant Aleksander (on and off since 1982)
John Bolger (1985 to 1986)
Jarrod Ross (1977 to 1981)
First arrived on Guiding Light: 1977
ROMANCE:
Blake Marler (married and divorced)
Beth Raines (married and divorced)
Mindy Lewis (married and divorced)
Muffy Baxter (dated)
Reva Shayne (dated)
Meredith Reade (one night stand)
Harley Davidson Cooper (married and divorced)
India von Halkein (married and divorced)
Fran Richkin (dated)
Chelsea Reardon (engaged)
Olivia Spencer (married and divorced)


CHILDREN:
Elizabeth (Lizzie) Spaulding (daughter with Beth Raines, born 1990)
Alan Cooper Spaulding (son with Harley Cooper, born August 1999)
James Spaulding (son with Beth Raines)
Emma Spencer Spaulding (daughter with Olivia Spencer)

WORK:
Spaulding Enterprises CEO
Writer (Wrote "Zanzibar")
Owned WSPR-TV
ABOUT:
When Phillip arrived in Springfield, he was a spoiled rich kid, always getting into trouble. It was his friendship with the "Four Musketeers" that saved him from being worse.

He was the "Golden Boy" of the Spaulding family, even though they had adopted him. Phillip didn't find that out until the night of his high school prom.

Through the years, Phillip tried to develop a sense of himself away from the Spaulding name and image. He even wrote some novels and short stories.

After a short stay in a psychiatric hospital, Phillip decided that he was sick of fighting who he was. He decided to follow his father's lead and try and control Springfield. He even went so far as to kidnap his own children. He remained cold, calculating and unapologetic up until the time of his death, claiming that everything he was doing was for the future.
It was later found out that he was not dead. Alan helped him fake his death so he could get rid of him without his having to face charges. He came back to town, sane again, and took back control of his family from his father. Alan was not happy at first that he came back. Although Phillip was sane again, he did push Grady over a cliff for kidnapping his daughter, but no one found that out. Phillip was reunited with Beth, the love of his life, and with his children and friends.
Phillip found out from Dr. Ed Bauer that he was dying. Phillip made amends to everyone, and they all forgave his former misdeeds. Alan saved his life by donating bone marrow, and then he passed away not too much later. Phillip forgave Alan for his evil behavior over the years before he died. Phillip and Beth planned to get re-married as the show ended.
Page proofread by Laura 11/30/09
Back to the Main Guiding Light Character Descriptions Page
---
Buy Soap Magazines
Go here for great news & scoops, photos and in-depth articles!
Soap Opera Digest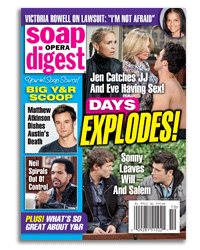 ---