PLEASE CLICK TO DONATE TO OUR SITE!!!!
This is just an unofficial fan page, we have no connection to "Guiding Light" or CBS.
PLEASE CLICK TO DONATE TO OUR SITE!!!!
Guiding Light Characters
Description by Elizabeth
Nate Hoffer / Alfred Randall - Deceased
PLAYED BY:
Ritchie Coster (April 4, 2005 to August 15, 2005)
WORK:
Owned bar, 'Outskirts'
ABOUT:
He was a strange man with an accent who unexpectedly popped into Reva's life one day. Though he was disappointed to learn she had a husband and family, the two remained friends. He even offered her a job at his bar, Outskirts. He taught her some "Cocktail"-style bartending moves and didn't hide that he was attracted to her. An incorrigible man, Reva found his sometimes inappropriate comments flattering.
We learned later that Nate was Jonathan's abusive, adoptive father, Alfred, who murdered his adoptive mother, Marissa. While holding Jonathan hostage, Nate was killed by a boat propeller in a struggle with Reva and his son.
Page proofread by Laura 11/30/09
Back to the Main Guiding Light Character Descriptions Page
---
Buy Soap Magazines
Go here for great news & scoops, photos and in-depth articles!
Soap Opera Digest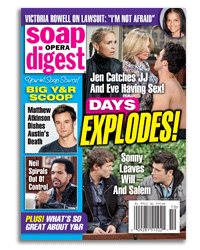 ---