PLEASE CLICK TO DONATE TO OUR SITE!!!!
This is just an unofficial fan page, we have no connection to "Guiding Light" or CBS.
PLEASE CLICK TO DONATE TO OUR SITE!!!!
Guiding Light Characters
Description by Elizabeth
Nadine Corley Cooper - Deceased
PLAYED BY:
Jean Carol (December 14, 1988 to October 20, 1995; April 3, 4, & 8, 2003; November 26 & December 1, 2003)
WORK:
Worked at a diner
Hosted talk show, "The Love Bug", on WSPR-TV
Former actress

ABOUT:
Nadine was a teenage mother when she married Buzz Cooper. Not long after becoming pregnant with their second child, he had to leave for the Vietnam War. When her husband never came home after the war, she told her children that he was killed and left them in the care of their grandfather.


It wasn't until 1988 that she returned to town. She found out that her daughter was marrying into a wealthy family and helped them out by agreeing to be the father of the groom's private nurse.

She fell in and out of love a few times when she first returned to Springfield. First it was with Alan, and then with Ross. She also had an affair with Billy Lewis, who was already engaged to be married to Vanessa Chamberlain. The engagement was broken when Vanessa learned of the affair, so Billy and Nadine spontaneously flew to Las Vegas and got hitched. They stayed together for a long time, and she even schemed and faked a pregnancy to make sure that he stayed with her. Like all secrets, it came out. She was thrown out of their home.

By this time, Buzz returned to town, and they became good friends. She was convinced that they were soul mates. They even participated on a game show together to win some money.

In 1995, she realized that his heart was with Jenna, so she gave him up. Not long after, she began having "visions" that implied a fellow tenant at the boarding house was in danger. It turned out that the woman she was worried about was none other than a rapist in disguise. He killed her and threw her body into a nearby lake.

Her family thought that she had just left town, until her body was found.

Nadine re-appeared later as a ghost or vision, helping her children through some rough patches in their lives. She always reminds them to hold on to life with all they have.
Back to the Main Guiding Light Character Descriptions Page
---
Buy Soap Magazines
Go here for great news & scoops, photos and in-depth articles!
Soap Opera Digest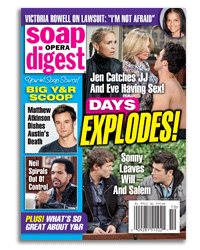 ---