PLEASE CLICK TO DONATE TO OUR SITE!!!!
This is just an unofficial fan page, we have no connection to "Guiding Light" or CBS.
PLEASE CLICK TO DONATE TO OUR SITE!!!!
Guiding Light Characters
Description by Elizabeth
Melinda "Mindy" Sue Lewis
PLAYED BY:
Krista Tesreau (May 26 & 27, 1983; June 6, 1983 to April 1989; June 7 to 11, 2002; October 17 to 18, 2002; November 16 & 18, 2004)
Kimberly Simms (July 13 to 19, 1989; August 25, 1989 to June 26, 1992; September 11 and 18, 1997)
Ann Hamilton (January 12, 1993 to April 19, 1993)
Barbara Crampton (April 27, 1993 to May 25, 1995)
WORK:
Fashion designer
Spaulding Enterprise board member
Former bartender at the Towers club
Former fashion designer for Matt Weiss in New York
Former exec at Lewis Oil
Former Sampson Girl model
Former employee at company
Accomplished pianist
CHILDREN:
Unnamed miscarried girl (with Phillip)
Unnamed miscarried child (with Roger)
ABOUT:
Mindy was a spoiled southern girl who loved her daddy very much. She came on the canvas in 1983 and showed viewers how conniving she could be. It was then that she talked her father into marrying Vanessa Chamberlain, a woman that Mindy simply loved.
Mindy was one of the infamous four musketeers. Though the four were friends, Mindy was often jealous of Beth Raines. It was this envy that led us to see how manipulative Mindy could truly be. For example, when she felt as though she wasnít getting enough attention from Phillip, she staged a horse riding accident. Despite landing her in the hospital, it did prove that Mindy Lewis usually got what she wanted.
It wasnít until the 90ís that Mindy decided she truly wanted to become an independent woman. She approached her father for help with her new business as a fashion designer. He refused to help, not wanting to face the fact that his little girl had grown up.
In 1995, Mindy left Springfield to start a new life in Paris. She succeeded as a fashion designer and has returned to Springfield a handful of times since her departure.† She reunited with Rick at the end of the show.
Page proofread by Laura 11/30/09
Back to the Main Guiding Light Character Descriptions Page
---
Buy Soap Magazines
Go here for great news & scoops, photos and in-depth articles!
Soap Opera Digest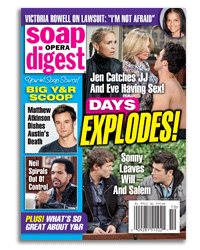 ---