PLEASE CLICK TO DONATE TO OUR SITE!!!!
This is just an unofficial fan page, we have no connection to "Guiding Light" or CBS.
PLEASE CLICK TO DONATE TO OUR SITE!!!!
Guiding Light Characters
Description by Elizabeth
Mick Santos
PLAYED BY:
Juan Hernández (1998)
WORK:
The family business

ABOUT:
Mick came onscreen in 1998, a member of the infamous Santos crime family. He bullied his way into working at the club, Millennium, and in a short time managed to make everyone dislike him.

He blackmailed two of the people working there as well as constantly hit on the women.

One of the people who hated him the most was Michelle Bauer. One night, he attacked her and a friend (Drew Jacobs) at the beach. He was hit over the head with a rock twice (once by each of them). They left him on the ground, not sure what to do.

It came out that evening that he was dead and that his mother and brother, Danny, were on the hunt for the person responsible for the death.
Page proofread by Laura 11/30/09
Back to the Main Guiding Light Character Descriptions Page
---
Buy Soap Magazines
Go here for great news & scoops, photos and in-depth articles!
Soap Opera Digest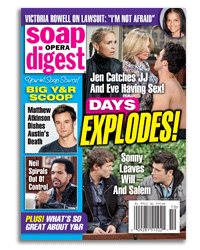 ---