PLEASE CLICK TO DONATE TO OUR SITE!!!!
This is just an unofficial fan page, we have no connection to "Guiding Light" or CBS.
PLEASE CLICK TO DONATE TO OUR SITE!!!!
Guiding Light Characters
Description by Elizabeth
Michelle Bauer Santos
PLAYED BY:
Anna Tendler (November 4, 1985 to 1987)
Rachel Miner (February 23, 1989 to June 13, 1995)
Rebecca Budig (November 30, 1995 to November 4, 1998)
(Bethany) Joie Lenz (November 5, 1998 to October 4, 2000)
Nancy St. Alban (October 27, 2000 to November 22, 2005; July 2, 3 & 13, 2009; September 17, 2009)
CHILDREN:
Robert Frederico Santos

WORK:
Physician's Assistant (at Cedars Hospital)
Medical student

ABOUT:
Michelle is the daughter of Claire Ramsey. Claire originally thought that Michelle's father was Fletcher but later learned that it was impossible. She realized that Michelle's father was Ed Bauer, with whom she'd had a one night stand. Claire allowed Ed and his wife Maureen to raise Michelle, deciding that they would be better role models for her daughter than she would.

As a child, Michelle was close to her brother, Bill Lewis, as well as Ben Reade and Bridget Reardon. She was close to her father until her mother's death, which she blamed on her dad.

Michelle also formed a bond with her father's second wife, Holly, when she was going through puberty. She turned to Holly when she needed to talk about female things. They are still very close. Her bond with her brother is an interesting one as well. He never approved of any man she has dated, with the exception of her childhood friend, Bill Lewis. Rick has been somewhat of a father figure to her, his younger sister, these past few years.

Michelle was the nice girl who always did the right things, until she met Danny Santos. Michelle and Danny met when he came to Springfield to exact revenge on his brother's killer. He found out it was Michelle after developing some feelings for her; he decided that the only way to save her was to make her family. The two have been married four times to each other and have one son, Robbie.

After a warehouse explosion, Michelle awoke from a coma as a new person. She shed many of her inhibitions and didn't give much thought to what people thought. She worked hard on trying to be a good mother to her son while trying to keep her independence.
She and Danny had a lot of problems, mostly due to his involvement in the mob world. Eventually, she regained her memory and reunited with Danny, and they had another child. They left town in 2005 but returned in 2009 and settled down in Springfield again.
Page proofread by Laura 11/25/09
Back to the Main Guiding Light Character Descriptions Page
---
Buy Soap Magazines
Go here for great news & scoops, photos and in-depth articles!
Soap Opera Digest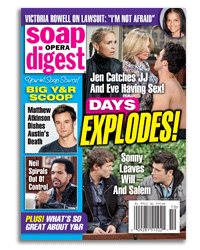 ---