PLEASE CLICK TO DONATE TO OUR SITE!!!!
This is just an unofficial fan page, we have no connection to "Guiding Light" or CBS.
PLEASE CLICK TO DONATE TO OUR SITE!!!!
Guiding Light Characters
Description by Elizabeth
Maureen Reardon Bauer - Deceased
PLAYED BY:
Ellen Dolan (January 25th, 1982 to March 21st, 1986)
Ellen Parker (April 2, 1986 to January 11, 1993; June 26, 1997 & September 30, 1997; February 5 to February 16, 1998; November 15 & 16, 1999; March 13, 2000; October 5, 2004; September 7, 2005)
CHILDREN:
Unnamed miscarried child (with Ed)
Michelle Bauer (adopted daughter; with Ed)
WORK:
Former executive assistant at Spaulding Enterprises
Former hospital administrator at Cedars
Former secretary for Dr. Ed Bauer
Former secretary for Dr. Davenport
ABOUT:
Maureen Reardon returned to Springfield in 1982 and soon began working for the man whom she would spend the next fifteen years with, Ed Bauer. The two married about a year after Maureen moved to town; they remained married until her death in 1993. (The soap called it fifteen years, but in real time it was ten years)
Maureenís marriage to Ed was not simple. The two struggled with infidelity, familial problems, alcoholism
and other diseases. Despite it all, though, they remained married.
Maureen was a kind woman, always wanting to react in a calm and thoughtful manner. She was fiercely loyal, and she loved her family with all her heart.
Sadly, she died in a car accident on her way to the Bauer cabin. She was the love of Ed's life, and he never got over her death.
Page proofread by Laura 11/25/09
Back to the Main Guiding Light Character Descriptions Page
---
Buy Soap Magazines
Go here for great news & scoops, photos and in-depth articles!
Soap Opera Digest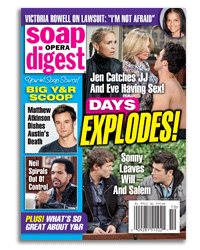 ---