PLEASE CLICK TO DONATE TO OUR SITE!!!!
This is just an unofficial fan page, we have no connection to "Guiding Light" or CBS.
PLEASE CLICK TO DONATE TO OUR SITE!!!!
Guiding Light Characters
Description by Elizabeth
Marina Nadine Cooper
PLAYED BY:
Casey Rosenhaus (1994 to 1995)
Alysa Zucker (1995 to 1996)
Sasha Martin (1996 to 1999)
Aubrey Dollar (January 15, 2002 to March 1, 2004)
Kit Paquin (March 5, 2004 to April 28, 2004)
Mandy Bruno (May 12, 2004 to present)
WORK:
Detective for Springfield PD
Occasional waitress at Company
Former nanny for Robbie Santos
Former employee at Spaulding Enterprises
ABOUT:
Marina returned to Springfield in 2001 after being expelled from school in California where she was living with her mother, Eleni. Once in town Marina tried to prove that she could be a 'rebel' by helping out Romeo Jones and Carmen Santos, trying to stop her aunt from dating Gus Aitoro as well as chasing after Ben Reade. Marina eventually gave up her rebellious ways and settled down once she became close to Shayne Lewis.
Marina was close at one time with Marah Lewis and Michelle Bauer, especially during the time in which they were trying to unravel the 'Maryanne Caruthers' mystery.
Marina, like most of the Coopers, is all about family. She is hardheaded, and stubborn like her Aunt Harley and good hearted like her father and grandfather.
Marina is closest with her grandfather, probably because they are so alike. They both realize that they are not perfect and strive to do the right thing.
Back to the Main Guiding Light Character Descriptions Page
---
Buy Soap Magazines
Go here for great news & scoops, photos and in-depth articles!
Soap Opera Digest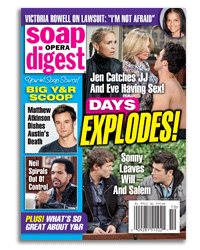 ---