PLEASE CLICK TO DONATE TO OUR SITE!!!!
This is just an unofficial fan page, we have no connection to "Guiding Light" or CBS.
PLEASE CLICK TO DONATE TO OUR SITE!!!!
Guiding Light Characters
Description by Elizabeth
Maria Santos
PLAYED BY:
Gloria Irizarry (recurring, March 5, 1999 to December 10, 1999)
Miriam Colon (recurring, December 13, 1999 to November 7, 2002)
ABOUT:
A stubborn woman, Maria Santos is the widow of Hernando Santos and the matriarch of the Santos family. She appears to be old and frail, even though she was strong in ways which no one ever dreamed of.


When Danny wanted to make the family business legitimate, she was adamantly against it. She also disliked her daughter-in-law, Carmen; especially after she found out that she hurt Danny to keep him from talking to a witness.

She headed the family business for some time and tried to persuade Danny to take over.

Maria also pushed Tony into a relationship with Catalina, a girl she approved of. (As opposed to Marah, whom she didnít like.) However, when Catalina became pregnant, she realized that perhaps she wasnít the right woman for him. Maria poisoned Catalina, causing her to lose the baby. When the wedding between the two still went on, she promised Romeo Jones some power within the family if he killed Catalina. He did as he was told.


Shortly after Catalinaís death, Maria suffered a stroke. She received treatment and was later shocked to hear that Carmen had attempted to kill Danny.

Her whereabouts right now are unknown, but she left town when the family mansion was sold in 2002.
Page proofread by Laura 11/25/09
Back to the Main Guiding Light Character Descriptions Page
---
Buy Soap Magazines
Go here for great news & scoops, photos and in-depth articles!
Soap Opera Digest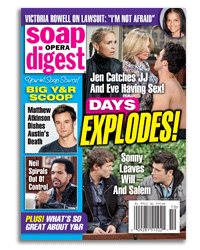 ---