PLEASE CLICK TO DONATE TO OUR SITE!!!!
Guiding Light Characters
Description by Elizabeth
Brandon "Lujack" Luvonoczek - Deceased
PLAYED BY:
Vincent Irizarry (November 28, 1983 to December 6, 1985; 1991; January 20, 1989; January 1993)
WORK:
Musician
Worked at Company
ABOUT:
Lujack's life was clearly not a trouble-free one, but he was a man with a soft side. Despite some initial mistakes as a teenager, Lujack ended up wanting to try and always do the right thing.
He was originally the leader of a street gang, which he later helped to disband. He also stole the lottery winnings from another Springfield resident. Later, he spilled the truth about someone setting up the DA to look like a criminal. All in all, Lujack tried to do the right thing when he could.
The love of his life was Beth Raines. The two of them went through a lot together, including her being temporarily blind. The two young lovers stuck it out together until they suffered a tragedy. Beth was kidnapped, and in an attempt to rescue her, Lujack was sadly killed.
Page proofread by Laura 11/25/09
Back to the Main Guiding Light Character Descriptions Page
---
Buy Soap Magazines
Go here for great news & scoops, photos and in-depth articles!
Soap Opera Digest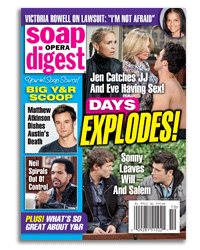 ---