PLEASE CLICK TO DONATE TO OUR SITE!!!!
This is just an unofficial fan page, we have no connection to "Guiding Light" or CBS.
PLEASE CLICK TO DONATE TO OUR SITE!!!!
Guiding Light Characters
Description by Elizabeth
Lucy Cooper
Played By:
Sonia Satra (September 14, 1993 to February 7, 1997)
Work:
Former waitress in Texas
Former assistant to Jenna Bradshaw at WSPR
Executive assistant at Spaulding Enterprises in France

About:
Lucy came onscreen in the early 90ís.


The daughter of Buzz Cooper and Sylvie (last name unknown), she mostly grew up with her father. When she was twenty-one, she realized that her trust fund had magically depleted and set out to search for Buzz, whom she hadnít seen in a while. She was shocked to learn that her father had a whole other family! Lucy came to Springfield and was welcomed in by her new half-brother and half-sister.

Lucyís first friend was Alan-Michael Spaulding, who would later become her husband. However, when she first came to town, he was still enthralled with Eleni, so she and Alan-Michael. He helped her get a job at Spaulding Enterprises and saved her when someone tried to beat her up.

It was at Spaulding Enterprises that she met a new man. In the coming year, however, he would prove to be nothing but trouble. After a few dates with Brent, he drugged and raped her. Alan-Michael was the first person she told about this, but she later pressed charges. Due to insufficient evidence, Brent supposedly left town for the west coast. He came back, though, and after a fight on the docks, he was killed.

Not long after his death, a new woman named Marion Crane came to town. She worked at Spaulding and stalked Lucy. Since she had been raped, Lucy had an HIV test done, but it came back negative. Marion, however, had fooled with the tests, so Lucy had to have more tests. They all came back negative. "Marion" turned out to be Brent in disguise.

Lucy and Alan-Michael were kidnapped by Brent/Marion. It was Alan who lobbied for their release. After dramatically being let free, Lucy and Alan-Michael were finally free to get married. Brent was arrested and sent to a mental institution, where he decided he wanted to be "Marion", instead of himself.

Not long after being married, Lucy got tired of all the games being played at Spaulding Enterprises. She and Alan-Michael decided to move to France and work for Spaulding from there in 1997. They divorced in 2005. Alan-Michael returned to Springfield for a while.
Page proofread by Laura 11/17/09
Back to the Main Guiding Light Character Descriptions Page
---
Buy Soap Magazines
Go here for great news & scoops, photos and in-depth articles!
Soap Opera Digest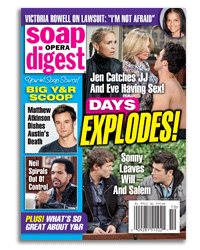 ---