PLEASE CLICK TO DONATE TO OUR SITE!!!!
This is just an unofficial fan page, we have no connection to "Guiding Light" or CBS.
PLEASE CLICK TO DONATE TO OUR SITE!!!!
Guiding Light Characters
Description by Elizabeth
Elizabeth "Lizzie" Lillian Spaulding
PLAYED BY:
Julie Levine (Thanksgiving 1990 to February 1991)
Hayden Panettierre (December 5 to 20, 1996; November 1, 1997 - October 13, 2000)
Mackenzie Mauzy (November 21, 2000 to July 12, 2002)
Allison Hirschlag (August 12, 2002 to January 28, 2003)
Crystal Hunt (Recurring; February 25, 2003 to February 2004; Contract, March 2004 to January 31, 2006)
Marcy Rylan (February 7, 2006 to present)
WORK:
Former owner of Elizabeth & Company
ABOUT:
Lizzie's life began much happier than it has been lately. She originally lived with both of her parents in Arizona. Her father, Phillip eventually moved back to Springfield as he wasn't happy with his life in Arizona. Lizzie and her mother followed their father out to Springfield a few years later. In her early years she was anxious for her parents to get back together with one another. Later on, it almost seems as though she gave up on the thought of them reuniting.
Lizzie had a hard childhood; it was filled with murder, sickness and some emotional problems. First she killed her mother's ex boyfriend, Carl as she was afraid of him. Soon after that fiasco was over, she developed leukemia and lived only because she received a bone marrow transplant from her brother. When her father was dating his soon to be 6th wife Olivia, Lizzie terrorized the woman. She hated her and even caused her to fall down a flight of stairs while pregnant.
When it comes to boys Lizzie hasn't been very lucky either. It seems like every time she falls for someone, they're dating another person. For example, she was interested in Shayne Lewis while he was dating Marina and then Lizzie was interested in Joey Lupo while he was dating Tammy Winslow. As she's gotten older she's gotten more determined. Even though Joey was dating Tammy, Lizzie helped break the two of them up and even dated Joey for a short time. She dated Coop for a short time as well, and that fell apart because Lizzie had a hard time dealing with a new lifestyle – being cut off from her family money. Though she truly loved Coop, she made some mistakes wanting everything between them to be perfect.
Lizzie has always been closer to her father, and she took his death very hard. When he left the restaurant, Company to her she made it her mission for the place to be successful, no matter what it takes. In an act of altruism, she handed the restaurant back over to the Cooper family. She reasoned that the Coopers had put too many hard years into running the restaurant merely to have it taken away by someone who truly didn't love the place.
Lizzie is also the mother of Sarah Randall, whom was the product of a drunken one night stand with Jonathan Randall. She and Jonathan tried to make a life for themselves, and even got married. Things fell apart though when Lizzie's grandfather, Alan, wouldn't stop meddling with the kids. It also didn't help that Jonathan didn't truly love his wife.
Lizzie blamed the break up of her marriage on Tammy Winslow, Jonathan's true love. Lizzie felt that she and Jonathan belonged together because of Sarah. She had a hard time facing the fact that the three of them weren't a true family.
An even harder time was about to hit, when in January of 2007 Jonathan and Sarah were both killed in a car accident. For a short time Lizzie wondered if the two were alive, but has since accepted their deaths.
In the wake of these losses, Lizzie is determined to be a true Spaulding, and go after what she wants from now on – no matter who is hurt in the process.
Back to the Main Guiding Light Character Descriptions Page
---
Buy Soap Magazines
Go here for great news & scoops, photos and in-depth articles!
Soap Opera Digest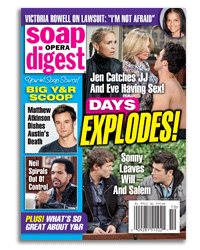 ---