PLEASE CLICK TO DONATE TO OUR SITE!!!!
This is just an unofficial fan page, we have no connection to "Guiding Light" or CBS.
PLEASE CLICK TO DONATE TO OUR SITE!!!!
Guiding Light Characters
Description by Elizabeth
Lillian Raines
PLAYED BY:
Tina Sloan (recurring, May 1983 to present)
ROMANCE:
Lt. Jeff Saunders (lovers)
Hawk Shayne (engaged)
Ed Bauer (lovers)
Unknown man (Beth's father-deceased)
Bradley Raines (divorced; deceased)
Buzz Cooper (married)

CHILDREN:
Beth Raines

WORK:
Nurse at Cedars Hospital

ABOUT:
Lillian Raines's life was much different when she first came to Springfield, compared to what it is now. Back then, she was married to Bradley Raines, who was abusing her daughter, Beth. (She didn't know about it while it was going on.)

Since her tumultuous beginning, Lillian has tried to be supportive of everyone in her life. She even went so far as to support her sister when she had syphilis. After a bad breakup with Hawk Shayne, she turned to Ed Bauer, who was married at the time. She had recently been diagnosed with cancer and Ed was her MD. Ed eventually ended their relationship, which caused Lillian to write Ed a letter. His wife, Maureen, found the letter and was subsequently killed in a car accident. Lillian had to deal with the stigma of being blamed for Maureen's death by most people in town.

Since being the temporary black sheep of Springfield, Lillian's role has primarily been one of a caregiver. She helped her granddaughter Lizzie cope after she killed Carl Stevens, and then again when she was diagnosed with leukemia. She then took on the role of concerned mother when her daughter married Edmund Winslow after her son-in-law Phillip's death. She was also one of the few that believed that Lorelei Hill was really her daughter Beth.

Lillian, who has never had much luck in the love department, made it no secret that while Phillip was alive that she wanted him to be with her daughter and their children. Lillian has most recently taken on the caregiver role again after the death of Phillip. It is obvious that she wants an easier life for Beth & her family than she had.
Eventually, Lillian dated Buzz Cooper, and they were married. They lived happily ever after.
Page proofread by Laura 9/15/09
Back to the Main Guiding Light Character Descriptions Page
---
Buy Soap Magazines
Go here for great news & scoops, photos and in-depth articles!
Soap Opera Digest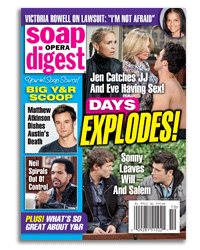 ---