PLEASE CLICK TO DONATE TO OUR SITE!!!!
This is just an unofficial fan page, we have no connection to "Guiding Light" or CBS.
PLEASE CLICK TO DONATE TO OUR SITE!!!!
Guiding Light Characters
Description by Elizabeth
Rev. Dr. Leo Flynn, J.D.
PLAYED BY:
ABOUT:
Leo was a lawyer and one of Roger Thorpe's minions. He would do anything for Roger, and had a knack for finding out secrets that he wasn't supposed to. Leo was the man who "cooked" Roger's books when he was stealing Dinah's money. He was also the man who Roger went to when he wanted to find out whether or not Vanessa Chamberlain was really dead. Roger also asked him to look into Brandon Spaulding's past, which he did willingly.

An incumbent senator, Leo lost his seat to Ross Marler, who later resigned. Leo Flynn also served for a short time as the Springfield District Attorney. The best way to describe this man would be "the antithesis of Ross Marler". If Ross went bad and became crooked, he would be known as Mr. Leo Flynn.
Page proofread by Laura 11/17/09
Back to the Main Guiding Light Character Descriptions Page
---
Buy Soap Magazines
Go here for great news & scoops, photos and in-depth articles!
Soap Opera Digest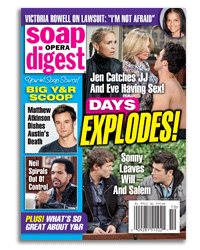 ---