PLEASE CLICK TO DONATE TO OUR SITE!!!!
This is just an unofficial fan page, we have no connection to "Guiding Light" or CBS.
PLEASE CLICK TO DONATE TO OUR SITE!!!!
Guiding Light Characters
Description by Elizabeth
Lena Kendall - Deceased
PLAYED BY:
CHILDREN:
Emily
ABOUT:
Harley's cellmate at Valesburg Prison, she was a tough lady who liked to quote from movies. Although she was being paid by Alan Spaulding, she truly did care for Harley. She saw her as a daughter figure, since her own child, Emily, refused to come and visit her.
Sadly, she died in the crash of a prison bus while trying to fix one of her mistakes. Before passing away, she did mutter something about telling Harley the truth about the murder, proving that she knew more than she ever let on.
Page proofread by Laura 11/17/09
Back to the Main Guiding Light Character Descriptions Page
---
Buy Soap Magazines
Go here for great news & scoops, photos and in-depth articles!
Soap Opera Digest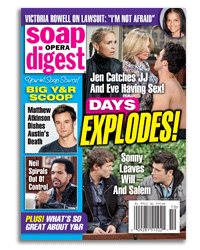 ---