PLEASE CLICK TO DONATE TO OUR SITE!!!!
This is just an unofficial fan page, we have no connection to "Guiding Light" or CBS.
PLEASE CLICK TO DONATE TO OUR SITE!!!!
Guiding Light Characters
Description by Elizabeth
Leah Boudreau Bauer
PLAYED BY:
Marley Wright (2004)
Arielle Renwart (May 18, 2006 to 2008)
Tyra Colar (December 1, 2008 to 2009, recurring)
PARENTS:
Rick and Mel Bauer
ABOUT:
Leah Bauer was born in 2004, but the character was rapidly aged to that of a teen in May of 2006. She came home for the summer, much to her parents' delight. She became friends with Daisy Lemay (Harley's daughter).

Leah was very concerned with the well-being of her family. She was "daddy's little girl" and used that to her advantage when she tricked her fighting parents into reconciling.
Leah had trouble forgiving her father when he found out that he had cheated on her mom with Beth. Eventually, though, she worked to get her parents reunited.
Unfortunately, her parents did not reconcile, although they have remained friends and good parents. Leah spends a lot of time away at boarding school.
Page proofread by Laura 9/15/09
Back to the Main Guiding Light Character Descriptions Page
---
Buy Soap Magazines
Go here for great news & scoops, photos and in-depth articles!
Soap Opera Digest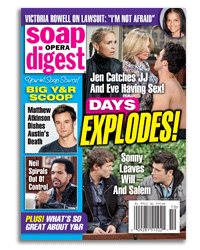 ---