PLEASE CLICK TO DONATE TO OUR SITE!!!!
This is just an unofficial fan page, we have no connection to "Guiding Light" or CBS.
PLEASE CLICK TO DONATE TO OUR SITE!!!!
Guiding Light Characters
Description by Elizabeth
Joshua "Josh" Lewis
PLAYED BY:
Robert Newman (October 1, 1981 to December 1984, October 1986 to January 25, 1991; August 30, 1993 to present)
CHILDREN:
Marah Lewis (with Reva)
Shayne Lewis (with Reva)
WORK:
President, Lewis Construction
Former president of Lewis Oil
Former manager for Floyd Parker
Former founder of "LTA" (Los Tres Amigos)
ABOUT:
Josh Lewis is a character who has seen great joy and tragedy in his life. Josh has gone through the loss of his soul mate, Reva, after she rediscovered the life she had lived when she was gone for five years. He lost Lewis Oil, which was started by his father, H.B. Lewis. He married his executive secretary, Olivia Spencer, on the rebound. After a bumpy year of marriage with her cheating on him with his worst enemy, Alan Spaulding, and getting Lewis Construction involved with the mob, Josh divorced her. Reva went on a time travel excursion in order to help Josh, and he joined her in WWII Paris to rescue her. While they were there, they discovered they still loved each other. They became owners of Lewis Oil again and were married for the third time. Sadly, they broke up again later.
Josh is very loving and forgiving. For example, Reva has been married to his brother, Billy, as well as to his father. Ironically ,though, Josh is hard on himself. He forgave Reva quickly for pulling the plug on the life support for her ex- husband, Richard. Yet, when Josh got into a car accident with his son, he had an extremely hard time forgiving himself. He even ended up moving out of the house until he figured some things out.
In recent years, we've realized that Josh is very capable of keeping secrets. He even hid what he thought was a murder for 20 years, along with some childhood friends.
Josh spent a significant amount of time helping to create a hospital for veterans returning from Iraq. It was a dream of his fathers that he wanted to fulfill, and despite giving up a lot for this dream to come true, he didn't once complain.
Josh became a minister for a while and also married Reva's sister, Cassie. Eventually, they were divorced, and Josh stopped being a minister, going back to Lewis Oil. Josh and Reva became close again, but she was already involved with Jeffrey. Reva and Jeffrey got married and had a child. Josh is always there for Reva, just the way he is for everyone in his family. Josh and Jeffrey also became friends and cohorts, working together against Edmund to keep their families safe.
Page proofread by Laura 8/25/09
Back to the Main Guiding Light Character Descriptions Page
---
Buy Soap Magazines
Go here for great news & scoops, photos and in-depth articles!
Soap Opera Digest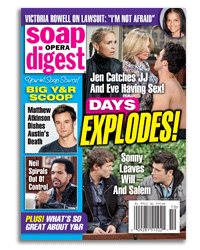 ---