PLEASE CLICK TO DONATE TO OUR SITE!!!!
This is just an unofficial fan page, we have no connection to "Guiding Light" or CBS.
PLEASE CLICK TO DONATE TO OUR SITE!!!!
Guiding Light Characters
Description by Elizabeth
Jonathan "J.B." Randall
PLAYED BY:
Sean Rademaker (recurring, September 3, 1999 to September 20, 1999; January 12, 2000; January 19 to January 21, 2000)
Tom Pelphrey (September 2, 2004 to January 2007)
WORK:
Part owner of Outskirts Bar
Former employee at Lewis Construction
CHILDREN:
Sarah Randall (with Lizzie Spaulding)
ABOUT:
Jonathan was born into royalty. His father was Prince Richard Winslow, while his mother was Reva Shayne. At the time of his birth, though, she was married to Richard and going by the name of Catherine.
Jonathan had a horrible childhood where most everyone he cared about left him. It began when his mother, who feared for her son's safety, sent him to live with Marissa & Alfred Randall. Reva thought that Richard's brother was trying to kill Jonathan, so to make sure he was safe, she sent him away. This backfired because Alfred beat Jonathan.
While in boarding school, Jonathan made a friend by the name of Sandy Foster. While hiking with Sandy, Jonathan slipped off of the side of a cliff. Sandy never reported the accident to the police and eventually tried to steal Jonathan's identity.
Having not learned the difference between acceptable and unacceptable behavior, Jonathan's foray back into his mother's life was a difficult one. To get her attention and to hurt her, he seduced his cousin, Tammy Winslow. He then spent the night before Cassieís wedding in bed with her, knowing that she was his aunt and ex-stepmother. It is surprising the lengths that Jonathan was initially willing to go to in order to hurt his mother.
Despite his best efforts, though, it was obvious that he cared about her. The two were alike in that neither of them fit in well with other people, and they both had a wild, independent streak.
Towards the end of Jonathanís time in Springfield, he began to know what it truly meant to love someone. It helped that he found his soul mate, Tammy, to share his life with. The two had many ups and downs, but they did find some happiness with one another.
Another source of great love for Jonathan was his daughter, Sarah. Initially he wasnít excited about having a child, but in the end, he realized that he could be the kind of father that he never had. He embraced fatherhood, and went to great lengths to make sure Sarah was safe.
Tammy was murdered when Alan Spaulding paid Grady to run Jonathan over and got her, instead. Alan wanted Jonathan out of the way so he would get his daughter, Sarah (Alan's grand-daughter). Jonathan faked his and Sarah's deaths and left town, to escape Alan's plotting. Later, they returned to town a few times, always escaping Alan. Eventually, when Alan was dying, he made amends with Jonathan. Jonathan agreed to share custody of Sarah with Lizzie, and they settled in town.
Page proofread by Laura 11/10/09
Back to the Main Guiding Light Character Descriptions Page
---
Buy Soap Magazines
Go here for great news & scoops, photos and in-depth articles!
Soap Opera Digest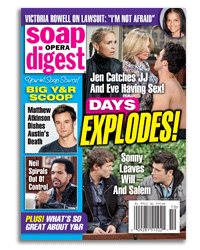 ---