PLEASE CLICK TO DONATE TO OUR SITE!!!!
This is just an unofficial fan page, we have no connection to "Guiding Light" or CBS.
PLEASE CLICK TO DONATE TO OUR SITE!!!!
Guiding Light Characters
Description by Elizabeth
Joey Lupo
PLAYED BY:
Justin Klosky (July 1, 2003 to March 2004 [recurring]; March 2004 to September 24, 2004 [contract])
WORK:
College student
Former hand at the Jessup farm

ABOUT:
Joey was an all-around nice kid, a senior in high school when he appeared in Springfield. Tammy Winslow wanted to date him. Her mother was convinced that he was bad news but was shocked when she heard nothing but rave reviews about him.

Tammy and Joey dated for a long time and were even cast as Romeo and Juliet in their school's play. However, after the last production, he found out that she had a crush on her mother's boyfriend. He broke it off with her and let her know that she always made him feel less than worthy.

Following their breakup, he began spending more time with Lizzie Spaulding, whom he saw as a friend and nothing more. Lizzie, on the other hand, had been trying to win Joey from Tammy for months.

He joined an intern contest at Spaulding, where he had the opportunity to win a college scholarship, hoping that this way he would be able to afford to go to school. Tammy was also in the intern contest, and through the next few months, they became close once more.

After winning the intern contest, he got called away to a meeting, where he thought he was supposed to talk with Spaulding Executives about his future. Suddenly, he found himself in a hotel room, alone with Lizzie. She drugged him and later lied to him, claiming that they had made love.

Eventually, he found out that Lizzie was lying about their night together. Lizzie told her father what was going on, and he threatened to have Joey's mom's house taken away if he did not leave town. Backed into a corner, Joey had to leave town. He was accepted at Boston University, where Spaulding Enterprises is footing the bill.
Page proofread by Laura 11/17/09
Back to the Main Guiding Light Character Descriptions Page
---
Buy Soap Magazines
Go here for great news & scoops, photos and in-depth articles!
Soap Opera Digest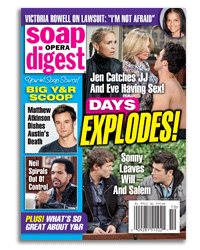 ---