PLEASE CLICK TO DONATE TO OUR SITE!!!!
This is just an unofficial fan page, we have no connection to "Guiding Light" or CBS.
PLEASE CLICK TO DONATE TO OUR SITE!!!!
Guiding Light Characters
Description by Elizabeth
Jenna Bradshaw Cooper - Deceased
PLAYED BY:
Fiona Hutchison (March 30, 1992 to December 12, 1994; December 26, 1994; December 26, 1996 to December 7, 1998; May 10, 2006)
Claire Beckman (temporary replacement, November 2, 1994)
CHILDREN:
Miscarried child (with Roger)
Henry Cooper "Coop" Bradshaw (with Buzz)
Ian Stavros "Rocky" Cooper (with Jeffrey Morgan)

WORK:
Former jewel thief
Partner with Harley in detective firm
Sometimes helped out at Company

ABOUT:
Jenna Bradshaw was a key player in Springfield from 1992 to 1998. She first appeared while she was a jewel thief. Since her beginning scenes, she changed drastically before our very eyes.


Although at first it seemed that Jenna was nothing but a money-hungry thief, we finally saw a softer side of Jenna during a blackout. Trapped in an elevator with Michelle Bauer, she helped to calm young Michelleís fears. Jenna wasnít always doing the right thing, and she still got into a considerable amount of trouble. At one point she was even married to the infamous bad boy, Roger Thorpe.


Viewers truly began to love Jenna when, after seeing an old photo of her motherís house, she began to search for her long-lost father. It was also during this time that she began a relationship with Buzz Cooper. Viewers were amazed at the chemistry these two shared on screen. Together they had two children, Coop and Rocky (Rocky was adopted).

Sadly, Jenna died in a car accident along with her ex-husband, Roger, in December of 1998. Luckily, she lived long enough to tell Buzz she loved him one last time. However, she later visited both Buzz and Coop as a ghost (or as figments of their imaginations).
Page proofread by Laura 11/10/09
Back to the Main Guiding Light Character Descriptions Page
---
Buy Soap Magazines
Go here for great news & scoops, photos and in-depth articles!
Soap Opera Digest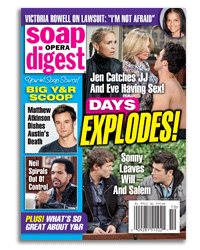 ---