PLEASE CLICK TO DONATE TO OUR SITE!!!!
Guiding Light Characters
Description by Elizabeth
Jeffrey O'Neill
PLAYED BY:
Bradley Cole (May 9th, 2003 to present)
CHILDREN:
Ava Peralta (with Olivia Spencer)
ROMANCE:
Olivia Spencer (married, divorced)
Dinah Marler
Cassie Winslow
Beth Raines
Marah Lewis
Blake Marler
Reva Shayne (married)
WORK:
Lawyer
Former Assistant District Attorney
Former District Attorney
Singer in a band
Former CIA agent
ABOUT:
Jeffrey arrived in Springfield, shocking everyone because he looked exactly like the deceased Richard Winslow. Jeffrey is rude and crude - nothing like the deceased Prince Richard.
Jeffrey has a dark past that he's desperate to keep a secret. Mysterious, Jeffrey is a hard person to read. You can never tell why he wants to do something, although it is usually for the "right" reasons.
Jeffrey was thrown for a loop when he found out in late 2006 that he had a daughter that was a product of a drunken one-night-stand with Olivia. After finding out that he had a daughter, Jeffrey wanted nothing to do with her. As time went on, he slowly warmed up to the idea of being a father. It did not soften his rough exterior very much.
Jeffrey had numerous bed mates, but he fell in love with Reva Shayne. They were married and had a baby together, despite the fact that she was also fighting cancer. Jeffrey was presumed dead when he left town to find Edmund, who was threatening his family. Reva turned to her former husband, Josh, for comfort.
Page proofread by Laura 8/25/09
Back to the Main Guiding Light Character Descriptions Page
---
Buy Soap Magazines
Go here for great news & scoops, photos and in-depth articles!
Soap Opera Digest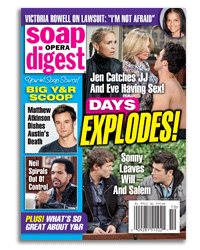 ---