PLEASE CLICK TO DONATE TO OUR SITE!!!!
This is just an unofficial fan page, we have no connection to "Guiding Light" or CBS.
PLEASE CLICK TO DONATE TO OUR SITE!!!!
Guiding Light Characters
Description by Elizabeth
India von Halkein
PLAYED BY:
Mary Kay Adams (August 1, 1984 to April 1987, August 1, 1990 to December 31, 1990; November 23, 1998 to August 25, 1999; October 17 to 22, 2002; September 16 & 19, 2005)
CHILDREN:
Dorie Smith (adopted)
WORK:
Spaulding Enterprise board member
Former Executive Ambassador for Spaulding Enterprises
Former President of Spaulding Foundation
Former curator at an art gallery
ABOUT:
India is a brash and outspoken woman who felt betrayed by the Spaulding family, Alexandra in particular. She is the type of woman who will help someone out, but only as long as there is something for her to gain as well.
India arrived in Springfield in 1984, hoping to get revenge on her ex stepmother, Alexandra. Apparently, Alex had married India's father in Andorra, and when she left, she took their money with her.
Following the death of Phillip Spaulding, she would claim that he was the only man to ever truly love her. India did blackmail Phillip into marrying her, and she also used a "love potion" provided to her by a family friend.
The two definitely had a connection, and it was later brought out when Phillip faked
his death. He was hiding out on an Italian island when he ran into India. She took Spaulding stock from Phillip in exchange for helping him. She later played an important role in helping keep Phillip from prison, and reuniting him with Beth.
India will tell people what she truly thinks about them, as evidenced by her last return to Springfield.
Page proofread by Laura 11/3/09
Back to the Main Guiding Light Character Descriptions Page
---
Buy Soap Magazines
Go here for great news & scoops, photos and in-depth articles!
Soap Opera Digest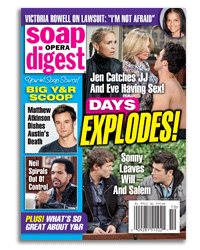 ---