PLEASE CLICK TO DONATE TO OUR SITE!!!!
This is just an unofficial fan page, we have no connection to "Guiding Light" or CBS.
PLEASE CLICK TO DONATE TO OUR SITE!!!!
Guiding Light Characters
Description by Elizabeth
Harlan Billy "H.B." Lewis I - Deceased
PLAYED BY:
Larry Gates (August 24, 1983 to summer 1988, recurring; July 15 to July 17, 1989, September 6 to 8 1989, November 3, 1989, December 20, 1989, March 9, 1990 to October 19, 1995)
Reathel Bean (June 14, 2006)
CHILDREN:
Harlan "Billy" Lewis II (with Sally)
Patricia "Trish" Lewis (with Martha)
Joshua Lewis (with Martha)
Unnamed miscarried child (with Reva)

WORK:
Founder of Lewis Oil
Former manager of Camp Kayuga

ABOUT:
A boisterous and loud southern gentleman, HB Lewis was a terrific man. He was a friend to many people, and he was amazingly loyal to those close to him. HB could often be found supporting his family and giving them advice when needed. However, things were not all sunshine and roses when it came to the patriarch of the Lewis Family.

HB was a shrewd businessman, and he would go to great lengths to protect both his company and his family from any perceived threat. For example, at one point he believed that Reva was not the right woman for his youngest son, Josh. HB bribed Reva to marry him, instead, just to keep her from Josh.

Sadly, on September 11th, 1996, HB Lewis died while in France.

One of the things that most viewers will remember is his annual reading of "The First Christmas."
Page proofread by Laura 11/3/09
Back to the Main Guiding Light Character Descriptions Page
---
Buy Soap Magazines
Go here for great news & scoops, photos and in-depth articles!
Soap Opera Digest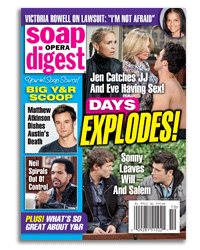 ---