PLEASE CLICK TO DONATE TO OUR SITE!!!!
This is just an unofficial fan page, we have no connection to "Guiding Light" or CBS.
PLEASE CLICK TO DONATE TO OUR SITE!!!!
Guiding Light Characters
Description by Elizabeth
Hawk Shayne
PLAYED BY:
Gil Rogers (Fall 1985 to Spring 1992; August 1995 to April 21, 1997; September 11, 1997; May 20 to 24, 1999; March 27, 2002; June 5 to 11, 2002; August 31, September 1 & 3, 2004; December 22, 23, & 26 2005)
WORK:
Formerly on Alexandra Spaulding's payroll
Former manager of Company
Former rodeo man
CHILDREN:
Reva Shayne (with Sarah)
Russell "Rusty" Shayne (with Sarah)
Roxanne "Roxie" Shayne (with Sarah)
ROMANCE :
Sarah Shayne (divorced; deceased)
Lillian Raines (engaged)
Misty McCloud (flirted with)
Alexandra Spaulding (dated; as part of a sting)
ABOUT:
A man with a vibrant personality, Hawk is a Springfield icon. He values family, and would do anything to protect those that he loves. However, he was not always so devoted to his family.
He left his wife Sarah, so she had to raise their children alone. Later, he spent a lot of time in prison. In the late '80's, Hawk tried to re-connect with his children and began working at regaining their trust.
Hawk lives in Oklahoma now, although he frequently travels to Springfield to visit his daughter Reva and her family.
Page proofread by Laura 9/15/09
Back to the Main Guiding Light Character Descriptions Page
---
Buy Soap Magazines
Go here for great news & scoops, photos and in-depth articles!
Soap Opera Digest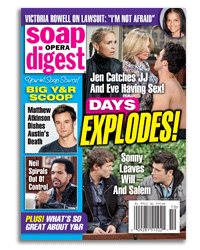 ---