PLEASE CLICK TO DONATE TO OUR SITE!!!!
This is just an unofficial fan page, we have no connection to "Guiding Light" or CBS.
PLEASE CLICK TO DONATE TO OUR SITE!!!!
Guiding Light Characters
Description by Elizabeth
Hart Jessup - Deceased
PLAYED BY:
Jeff Phillips (April 2, 1991 to June 24, 1992)
Leonard Staab (March 25, 1993 to August 10, 1993)
Sean McDermott (August 13, 1993 to October 19, 1993)
Marshall Hilliard (November 4, 1995 to May 15, 1996)
Frank Grillo (May 17, 1996 to March 1, 1999)
CHILDREN:
Peter Reardon (son with Bridget Reardon)
Roger Joshua Jessup (son with Cassie Layne)
WORK:
Owned Jessup Farm.
Former security guard at Lewis Oil.
Formerly a traveling construction worker
ABOUT:
Hart was a good man with a good heart, who even cared for his elderly grandfather at his farm. After his grandfather died, Hart also suffered the loss of the farm by an unknown and wealthy businessman. It was then that Hart set out to find his biological father, whom he had never met. He got quite the shock when he found out that Roger Thorpe was not only his father, but also the man who had stolen his grandfather's farm out from under him.
Hart left Springfield, only to return many years later in an apparent need to get even with Roger. He teamed up with his then step-mother, Dinah, and eventually got back the farm where he had spent his childhood days. During the time in which Dinah and Hart worked together, they also fell in love, and eventually they began their lives together. They both hoped that it would last forever.
Soon after the happy couple moved into the farm, Hart became distracted by a new lady in town, Cassie Layne. She and Hart fell in love, causing Dinah to head into an emotional tailspin. Hart surprisingly married Dinah after she got into an accident, thinking that the marriage request was the wish of a dying woman.
Through it all he still loved Cassie. He finally decided to return to her after he found out that she was pregnant with his child. This turn of events cause Dinah to go mad with jealously. On one fateful evening, Dinah took a gun to the farmhouse and accidentally shot Hart (she was aiming for Cassie).
Hart died with Cassie by his side, after surgery was unable to save his life.
Page proofread by Laura 11/3/09
Back to the Main Guiding Light Character Descriptions Page
---
Buy Soap Magazines
Go here for great news & scoops, photos and in-depth articles!
Soap Opera Digest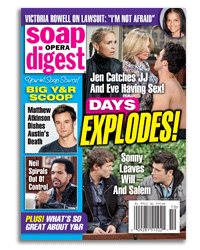 ---