PLEASE CLICK TO DONATE TO OUR SITE!!!!
Guiding Light Characters
Description by Elizabeth
Grady Foley AKA Gillespie - Deceased
PLAYED BY:
Kane Manera (September 20, 2006 – February 2007; June 2, 2008 to March 9, 2009)
ABOUT:
Gillespie was nothing but trouble when he came to town in the fall of 2006. He was a hit man who tried to kill Ava for Olivia; he succeeded in running down Tammy Winslow with his car.
Gillespie was linked to Daisy LeMay. It was unclear how they met at first, but the two were nothing but trouble when they spent time together. They did drugs, steal, and just caused trouble in general. Later, we learned that they met when she was in boarding school and he had broken in.
Gillespie was nothing but bad news for all who came across him. Gillespie left town after being extradited back to Australia, where he was wanted for numerous crimes.
He later returned to town a the mysterious "G" and was revealed to be Cyrus' brother, Grady. Grady was still trouble, but we learned more details about him and his life, and why he was such a bad guy at times. Grady blamed Cyrus for abandoning him. Cyrus hadn't wanted Grady to turn out to be a thief like him, but he became even worse. Cyrus got into a lot of trouble protecting his brother while he was in town. Grady was not very bright, as it turned out. Later, it was revealed that they were not blood relations.
Grady truly loved Daisy, and she helped to make him a better person, but it didn't last. Grady felt bad about killing Tammy. Alan had paid him to run down Jonathan, but he had hit Tammy instead. Daisy was in the car with him. At his trial, she testified that he had been distracted and did not intentionally hit Tammy, so he was found not guilty.
Although he got a job, things did not keep going well for Grady and Daisy. Cyrus and Grady conspired with Dinah to kidnap Bill and Lizzie, although they did get away. Later, Phillip Spaulding returned to town and killed Grady by pushing him off a cliff. Everyone believe he left town, including Daisy, who was heartbroken.
The writers tried to make Grady and Daisy a rebellious romantic young couple, but they made Grady too despicable for viewers to ever warm to him that way. Making him Cyrus' brother did not help make him more lovable.
Page proofread by Laura 10/27/09
Back to the Main Guiding Light Character Descriptions Page
---
Buy Soap Magazines
Go here for great news & scoops, photos and in-depth articles!
Soap Opera Digest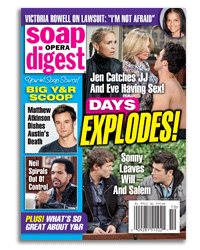 ---