PLEASE CLICK TO DONATE TO OUR SITE!!!!
Guiding Light Characters
Description by Elizabeth
Frank Achilles "Buzz" Cooper, Sr.
PLAYED BY:
Justin Deas (Originated role on February 5, 1993 to present)
CHILDREN:
Frank Achilles Cooper Jr. (with Nadine)
Harley Davidson Cooper (with Nadine)
Lucy Cooper Spaulding (with Sylvie)
Henry "Coop" Cooper (with Jenna)
Ian Stavros Cooper (mother: Jenna, father: Jeffrey, Buzz adopted Rocky as his own)
WORK:
Owns Company restaurant
Former Maitre d' at Towers Club
Former owner of Fifth Street Diner (burned down)
Sales Rep for Lewis Oil (as Rex Mancini)
Waiter at Wheels & Meals diner
Vietnam War veteran
ABOUT:
Buzz Cooper came to Springfield in 1993 and has been an integral part of the show since then.
Buzz is a man whose heart is in the right place, but sometimes he gets himself in over his head, much to the aggravation and sometimes delight of his family.
He grew up in Springfield. Shortly after high school, Buzz was sent to fight in Vietnam. While there, his face was scarred, and he then got plastic surgery to cover up the wound. He faked his death. Instead of returning to Springfield to raise his children, he lived in various states around the country.
Buzz made his way back to Springfield shortly after the birth of his granddaughter, Marina Cooper, by his son Frank. Instead of being welcomed with open arms, he received nothing but opposition. Buzz is also the biological father of Henry Cooper Bradshaw, whose mother was Jenna Bradshaw, as well as Lucy Cooper, whose mother was Sylvie. He is also the adopted father of Ian Stavros Bradshaw.
Buzz's inheritance, the Fifth Street Diner, was accidentally set on fire. After that, he bought a new restaurant, Company. Buzz ran the place until he sold it to Phillip Spaulding in an attempt to stop the Spaulding-Cooper feud. Later, Marina bought it back and runs it with the family.
Recently having undergone heart bypass surgery, Buzz has declared that the little things in life don't matter and that love is what it's all about. He dates Lillian and is very happy. The only thing that has marred his happiness is the death of his son, Coop, and the disappearance of his daughter, Harley.
Page proofread by Laura 8/25/09
Back to the Main Guiding Light Character Descriptions Page
---
Buy Soap Magazines
Go here for great news & scoops, photos and in-depth articles!
Soap Opera Digest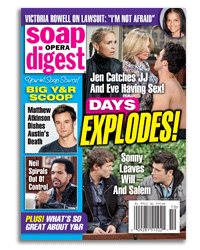 ---