PLEASE CLICK TO DONATE TO OUR SITE!!!!
Guiding Light Characters
Description by Elizabeth
Frank Achilles Cooper, Jr.
PLAYED BY:
Frank Dicopoulos (October 31st, 1987 to present)
First arrived on Guiding Light: 1987

ROMANCE:

Melinda "Mindy" Sue Lewis (lover)
Dana Jones (engaged; deceased)
Blake Lindsey (lover)
Eleni Andros (divorced)
Mae Merisi/Mary Murto (dated)
Darci Matthews (engaged)
Olivia Spencer (dated0
Natalia Rivera (lover)

CHILDREN:

Marina Nadine Cooper (with Eleni)
new unborn child (with Natalia)

WORK:

Springfield Chief of Police
Police detective
Former Private Investigator
Employed at Wheels & Meals diner
Former mechanic

ABOUT:
Frank Cooper, now a tough cop in Springfield, used to be a mechanic who ran a chop shop. Frank's daughter, Marina, returned to Springfield in 2002 after running away from her mother and their home in California. When Marina originally returned to town, they had some some trouble getting along; however, things eventually worked out.
On the professional front, Frank was involved in the investigation into Reva Lewis's stalking in early 2003 and became Chief of Police that spring when Chief Franklin retired.
From the time that his father left, Frank had to provide for and protect his younger sister, Harley. When we were first introduced to Frank, he was also living with his grandfather, who owned a diner. Frank is still protective of his sister, regardless of what the consequences may be. His protectiveness showed on the day of Harley's wedding to Gus. He found out that Gus had lied to help his family cover up a drug ring, so he told his sister. He even went so far as to pull a gun on Alan Spaulding, which resulted in his getting his badge taken away.
Frank is someone who will do anything for the people he cares about and is always trying to do the right thing. He's had his heart broken many times, but he has his family.
When Frank was involved with Natalia, he became a surrogate father figure for her son, Rafe, and helped him get out of jail.
Page proofread by Laura 8/18/09
Back to the Main Guiding Light Character Descriptions Page
---
Buy Soap Magazines
Go here for great news & scoops, photos and in-depth articles!
Soap Opera Digest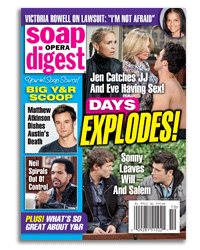 ---