PLEASE CLICK TO DONATE TO OUR SITE!!!!
Guiding Light Characters
Fletcher Reade
Description by Elizabeth
PLAYED BY:
Jay Hammer (May 1984 to March 11, 1998; March 19, 1999 to May 7, 1999)
WORK:
Journalist
Formerly Ross Marler's campaign manager in his bid for the Senate
Former co-owner of the Springfield Journal
Former co-owner of the Blue Moon nightclub
CHILDREN:
Rebecca Shiban (deceased, daughter with Leah)
Marguerite "Meg" Meredith Reade (daughter with Holly)
Benjamin Reade (deceased, adopted son w/Maeve)
ABOUT:
Fletcher was best known for being an ace reporter, but he also fell madly in love with women. When he cared about someone, he loved them with all of his being.
Fletcher came on the scene during the infamous 'Dreaming Death' storyline in 1983. He had two daughters. One, Rebecca, died many years ago. He was devastated and vowed to never go through that pain again. Perhaps that is why, after the birth of his second daughter, he fled town.
He returned to town years later and connected with Alexandra Spaulding. She had just lost her brother, Alan. They decided to tour Europe together.
Page proofread by Laura 10/27/09
Back to the Main Guiding Light Character Descriptions Page
---
Buy Soap Magazines
Go here for great news & scoops, photos and in-depth articles!
Soap Opera Digest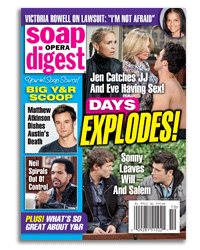 ---