PLEASE CLICK TO DONATE TO OUR SITE!!!!
This is just an unofficial fan page, we have no connection to "Guiding Light" or CBS.
PLEASE CLICK TO DONATE TO OUR SITE!!!!
Guiding Light Characters
Description by Elizabeth
Dr. Felicia Boudreau
PLAYED BY:
Shari Headley (August 29th, 2001 to March 7th, 2002; recurring)

Kim Brockington (May 6th, 2002 to present; recurring)
First arrived on Guiding Light: 2001
ROMANCE:
Clayton Boudreau (married)
CHILDREN:
Melissande "Mel" Boudreau Bauer (daughter with Clayton Boudreau)
Remy Boudreau (son with Clayton Boudreau)
WORK:
Psychiatrist
ABOUT:
Felicia Boudreau originally moved to Springfield and became friends with Blake Marler. Through her friendship with Blake, Felicia helped secure Ross a job at Springfield University where Felicia's husband, Clayton, is the Dean. Felicia used to often act as a go-between for her children and husband. Felicia helped mend the rift between her son, Remy, and his father when they argued about music and sports. When Mel and Rick originally got together, she was simply glad that her daughter had found a partner and helped convince both Remy and Clayton that the fact that it was an interracial relationship didn't matter.
Felicia has helped many people in Springfield with psychiatric counseling and kindness, including Blake, Reva, LIzzie, and Michelle.
Page proofread by Laura 9/15/09
Back to the Main Guiding Light Character Descriptions Page
---
Buy Soap Magazines
Go here for great news & scoops, photos and in-depth articles!
Soap Opera Digest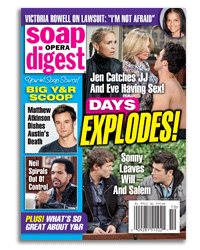 ---