PLEASE CLICK TO DONATE TO OUR SITE!!!!
This is just an unofficial fan page, we have no connection to "Guiding Light" or CBS.
PLEASE CLICK TO DONATE TO OUR SITE!!!!
Guiding Light Characters
Description by Elizabeth
Prince Edmund Sebastian Winslow
PLAYED BY:
David Andrew MacDonald (July 8, 1999 to Nov. 10, 2005, Oct. 24, 2007)
ROMANCE:
Carmen Santos (lovers)
Jenny Hampton (lovers)
Beth Raines (divorced)
Alexandra Spaulding (lovers)
Cassie Layne Winslow (divorced)
WORK:
Ambassador for San Cristobel
Worked for Alexandra Spaulding
Briefly worked as lounge singer in Chicago
Former ruler of San Cristobel
Former liaison agent between Spaulding Enterprises and San Cristobel

ABOUT:
For the most part, Edmund has been mean, evil, and often crazy. When viewers first met him, he tried to steer Reva Shayne away from his brother, Richard. It soon became apparent that he was up to no good. You name it and he's tried it: everything from kidnapping, imprisonment, bribery, and attempted murder, to political coup. He has often faked his own death. There was a time when this man would have stopped at nothing to ruin his brother's life and happiness. Edmund was jealous that Richard became the island Prince of San Cristobel after the death of their father. Edmund was jealous because the way he saw it, Richard wasn't a true prince. After all, his mother wasn't Charlotte (San Cristobel's Princess).
After his brother's death, Edmund seemed to change. He became repentant and less arrogant. He asked his sister-in-law, Cassie, to help him build a library to honor Richard. As time wore on, the whole town got used to a nicer, friendlier Edmund.
He became a family man, trying to help Tammy with her school plays as well as being a father figure to RJ. He tried to build a new life with Cassie, but his insecurities and jealousies, combined with her (and everyone else's) suspicions of his past crimes kept coming between them.
Cassie miscarried his child, so they decided to try to have another child. He went off the deep end and kidnapped Michelle's baby so that he could give it to Cassie. He ended up trying to kill Michelle and kidnapping Cassie. Edmund went to a mental hospital and then befriended his nephew, Will. Will was even more evil and crazy than Edmund, as it turned out. They were taken back to Springfield when Cassie and Joshua wanted to adopt Will after his father died (not knowing that Will had killed him). Edmund received a pardon for his crimes and stayed in town for a while.
Josh and Jeffrey teamed up to try to get rid of Edmund several times, but they never succeeded. Edmund turned out to be the father of a dead girl, Lara, that had been pregnant with Shayne's baby. Shayne felt responsible for her death. When Edmund found out his part in her death, he tried to kill Shayne. Jeffrey left town to try to find Edmund because he was threatening Reva, his wife, and their new baby. Jeffrey and Edmund were last seen trying to kill each other, but neither has returned back to Springfield.
Page proofread by Laura 10/27/09
Back to the Main Guiding Light Character Descriptions Page
---
Buy Soap Magazines
Go here for great news & scoops, photos and in-depth articles!
Soap Opera Digest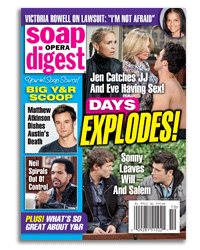 ---