PLEASE CLICK TO DONATE TO OUR SITE!!!!
This is just an unofficial fan page, we have no connection to "Guiding Light" or CBS.
PLEASE CLICK TO DONATE TO OUR SITE!!!!
Guiding Light Characters
Description by Elizabeth
Eden August
PLAYED BY:
Teresa Hill (August 9, 2002 to September 18, 2003)
Deborah Zoe (September 30, 2003 to May 31, 2004)
WORK:
Former spokesmodel for Bad Girl perfume
Former owner of Garden of Eden escort service
Former bartender at Infierno
Former employee of mobster Vinnie Salerno

ABOUT:
Eden came to town originally because of a custody battle involving her brother, Gus, Harley Cooper, and Phillip Spaulding. Phillip had learned that Gus served time for murder as a teenager, so he didnít want him around his children. Gus maintained that he was innocent of the murder and simply covering for Eden, whom he had vowed to protect after their parents' death.

Eden hated Harley at first and refused to help him. Meanwhile, she was trying to get close to Tony Santos, which his aunt was paying her to do.

At the end of 2002, Eden left town for a few months. When she returned, she was surprised to learn that Gus wasnít her biological brother. At this time, she also began an escort service, which she claimed was legitimate Ė Garden of Eden Escorts.

Not long after the business began, some of her employees began being murdered, one by one, at an alarming rate. Eden was even one of the suspects. It was during this time that she became close with Bill Lewis, and they started dating. Ben Reade was eventually revealed as the real serial killer, finally clearing Eden.


While dating Bill, Eden was harassed by a man from her past, mobster Vinnie Salerno. He blackmailed her into being a drug mule. In a moment of defiance, she flushed the drugs she had picked up down her toilet. This made Vinnie furious, and he put a hit out on her.

Realizing how dangerous things were for her, she teamed up with Harley, Gus, Danny and the district attorney. Together they devised a plan to make it look like she was killed in a warehouse explosion. She then entered the witness protection program, leaving everyone in Springfield to think she was dead.
Page proofread by Laura 10/27/09
Back to the Main Guiding Light Character Descriptions Page
---
Buy Soap Magazines
Go here for great news & scoops, photos and in-depth articles!
Soap Opera Digest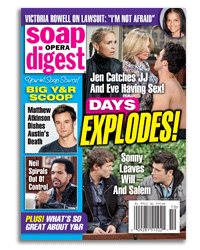 ---