PLEASE CLICK TO DONATE TO OUR SITE!!!!
This is just an unofficial fan page, we have no connection to "Guiding Light" or CBS.
PLEASE CLICK TO DONATE TO OUR SITE!!!!
Guiding Light Characters
Dr. William Edward (Ed) Bauer, Jr., MD
Description by Elizabeth
PLAYED BY:
Pat Collins (1958 to 1961)
Robert Gentry (April 4, 1966 to April 25, 1969; September 26, 1997 to July 7, 1998)
Mart Hulswit (September 24th, 1969 to August 28th, 1981)
Peter Simon (September 1st, 1981 to September 11th, 1984; April 2nd, 1986 to June 21st, 1996; May 9th, 2002 to May 14th, 2004)
Richard Van Vleet (September 24th, 1984 to March 21st, 1986)
JOBS:
Doctor in Louisiana
Former doctor in a research facility in Africa
Former doctor at Cedars Hospital
Formerly ran a free clinic on 5th
Was Chief of Staff at Cedars for several years
Former doctor at Hastings Electrical Supply
CHILDREN:
Rick Bauer (with Leslie)
Unnamed stillborn son (with Rita)
Unnamed miscarried child (with Maureen)
Michelle Bauer (with Claire)
ABOUT:
William Bauer arrived in Springfield in 1966. He decided to go by his middle name, Ed, instead of his given name.
Ed was determined to make a name for himself in the medical field throughout his time in Springfield and abroad. A fiercely dedicated professional, Ed spent a great portion of his life in or around a hospital setting.
Ed has a reputation for infidelity. However, when he was just getting started on his own he was shocked to learn that his father had an adulterous relationship. When he confronted his parents about it, they both shrugged it off. One might guess that this was part of the reason Ed cheated on his second wife, Maureen. Some might also speculate that this was the reason he treated the majority of women in his life in such a crummy way.
Ed was stubborn and sure of himself when it came to medicine. When one of his patients, a young woman, died on the operating table, he became extremely distraught over it. Ed turned to the bottle and became an alcoholic as his father was before him. Through the years, Ed has battled this disease on and off.
Ed has always been a supportive person to those who needed him, whether it was a wife, child or friend. He served as a great help to others in town battling addictions of their own.
Ed in his later years was once again focusing on his career as a doctor, as opposed to the every-day stresses of life. When he returned to town for Michelle and Danny's wedding, he got together romantically with Holly. They left town on a world trip.
Page proofread by Laura 10/27/09
Back to the Main Guiding Light Character Descriptions Page
---
Buy Soap Magazines
Go here for great news & scoops, photos and in-depth articles!
Soap Opera Digest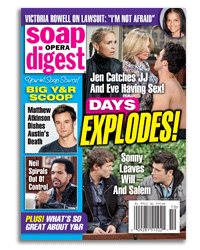 ---