PLEASE CLICK TO DONATE TO OUR SITE!!!!
Guiding Light Characters
Description by Elizabeth
Dylan Shayne Lewis
PLAYED BY:

Morgan Englund (May 1989 to January 3, 1995; January 2, 3 & 7, 1997 and September 11, 1997; May 19 to 24, 1999; June 7 to 11, 2002; August 14, 2006)
Brian Gaskill (March 2007 to present)
WORK:
Construction foreman
Former employee of Lewis Oil
CHILDREN:
Susan "Daisy" Lemay (with Harley)
Peter Lewis Reardon (stepson)
ABOUT:
Dylan was a rebellious teen who ran away from home after the death of his adoptive mother. It was then that he hooked up with Harley Coope. He then was sent to jail for bank robbery. Due to his problems with the law, Dylan didn't know that he had gotten Harley pregnant.
Dylan is stubborn and loyal. When he found out that his daughter was given up for adoption, it caused him to search for his biological parents. It was also during this time that he and Harley, now living in Springfield, also became closer.
The time that Dylan has spent in Springfield has caused him to be more of a family man. After spending time with his biological parents, Reva and Billy, he came to realize that he truly was blessed with loving people in his life.
After being blinded in a car accident, he settled down and stopped chasing shady women. He got his sight back and married Bridget, and they left town together. Their marriage fell apart, and he came back to town to help Harley with their teen daughter, Daisy.
When his mother was sick with cancer, he traveled back to town to see her several times. Family has thus become Dylan's new focus in life. He is determined to get back together with Bridget.
Page proofread by Laura 10/27/09
Back to the Main Guiding Light Character Descriptions Page
---
Buy Soap Magazines
Go here for great news & scoops, photos and in-depth articles!
Soap Opera Digest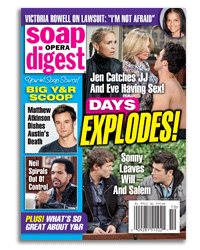 ---