PLEASE CLICK TO DONATE TO OUR SITE!!!!
Guiding Light Characters
Description by Elizabeth
Doris Wolfe, Esq.
PLAYED BY:
Orlagh Cassidy (Recurring, February 23, 1999 to present)
WORK:
Mayor; District Attorney; Assistant DA
ROMANCE:
Alan Spaulding (divorced; deceased)
Doris is now an openly gay lesbian and dating an unnamed woman.
CHILDREN:
Ashlee Wolfe
ABOUT
Doris Wolfe has always been a diligent lawyer. It is not uncommon for her to prosecute someone in a case and show no mercy. Unfortunately, her daughter, Ashlee has mentioned that she has the same ruthless style when it comes to parenting. Eventually, Doris and Ashlee grew closer and had a more normal mother-daughter relationship.
In the past few years, Doris has played hardball with the residents of Springfield. On more than one occasion, she has made legal concessions as long as they would benefit her, personally or professionally. She ran for mayor against Buzz Cooper. Ashlee fixed the election so that Buzz would win. Doris protected Ashlee, gave Buzz a job, and reinstated Jeffrey as D.A.
She briefly married Alan Spaulding, until her daughter Ashlee shot him. Later, Alan still had some influence for Doris and used it whenever possible to get his way in the town.
Doris was secretly a lesbian. Olivia was the first to find out as she struggled with her own sexuality and found Doris in the town's gay bar. Eventually, Doris came out to her daughter, Ashlee, and then to everyone else.
Page proofread by Laura 9/8/09
Back to the Main Guiding Light Character Descriptions Page
---
Buy Soap Magazines
Go here for great news & scoops, photos and in-depth articles!
Soap Opera Digest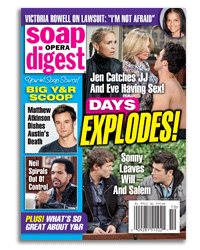 ---