PLEASE CLICK TO DONATE TO OUR SITE!!!!
This is just an unofficial fan page, we have no connection to "Guiding Light" or CBS.
PLEASE CLICK TO DONATE TO OUR SITE!!!!
Guiding Light Characters
Description by Elizabeth
Dinah Adele Chamberlain Marler
AKA Dinah Morgan
PLAYED BY:
Jennifer Gatti (June 16, 1986 to June 1987)
Paige Turco (July 1987 to February 1989)
Wendy Moniz (February 20, 1995 to February 4, 1999)
Gina Tognoni (July 5, 2004 to present)
WORK:
PR and assistant to Harley Cooper at Spaulding Enterprises
Former CEO of Spaulding Enterprises
PR specialist and assistant to D.A. Jeffrey O'Neill
Former station manager of WSPR
Briefly worked at Lewis Oil
Former waitress at the nightclub, Kiyogi.
Formerly mowed lawns for Sally Gleason

KIDS:
miscarried twice (once with Rob Layne; deceased)
ROMANCE:
Roger Thorpe (divorced; deceased)
Hart Jessup (divorced; deceased)
Cameron Stewart (dated)
Alan-Michael (dated)
Jean-Luc [last name unknown] (lovers)
Michael Burke (dated; Deceased)
Hart Jessup (affair; deceased)
Rob Layne (one-night stand; deceased)
Jeffrey O'Neill (lovers)
Dr. Corey Sheehan (dated)
Jonathan Randall (lovers)
Matt Reardon (one-night stand)
A.C. Mallet (divorced)
Shayne Lewis (divorced)

ABOUT:
Dinahís parents are Ross Marler & Vanessa Chamberlain, but that was not by whom she was raised. Given up for adoption because Vanessa was a teenager, Dinah was raised in the carnival. She originally came to Springfield as a teenager. As a young girl, she was first portrayed as a tomboy and then changed into a naÔve young lady, wanting to do good things for other people. She even stuck by her friend, Harley Cooper, when she had her baby, and again when she gave her up for adoption. She left town soon after, breaking up with Alan-Michael; she moved to Europe for school.

Dinah returned to Springfield a changed person. It was 1995, and she came back during what her parents thought was a school break. They were shocked when they learned that she had dropped out. It was during this time that people began to notice her new, spoiled, rich-girl attitude. She was also upset about her relationship with her mother, and she wanted money. She ended up playing her mother against her stepfather and tried to turn her father against his wife, Blake. In need of money, Dinah realized that once she got married, she would receive her trust fund. While lashing out at her family, she married Blakeís father, Roger, who promptly stole her trust fund money.

It was around this time that Rogerís son, Hart, returned to town. He and Dinah worked together to try and convince everyone that Roger was insane in a ploy to get Dinahís money back. The two fell in love and had a chaotic relationship.


When things between she and Hart looked like they were over, and that he was going to leave her for another woman, she went to great lengths to keep him with her. She became pregnant and led him to believe it was his child, when in fact it was another manís. She ended up having a miscarriage, which she took understandably hard.

A few years later, Cassie found out the truth about Dinahís pregnancy and confronted her. Not wanting her only connection to Hart to be ruined, she grabbed a gun with the intention of keeping Cassie quiet. Unfortunately, Hart walked in and was hit by the bullet. He died, and she ended up fleeing town. Her mother arranged for her to fly to Europe and stay with nuns.

No one heard from Dinah until the summer of 2004. Cassie found out that someone was impersonating her in Europe. It turned out to be Dinah, and the viewers discovered that Jeffery OíNeill had rescued Dinah from a European prison in exchange for her impersonation of Cassie.

Meanwhile, back in Springfield, her father was urging her to turn herself in as she was still wanted for Hartís murder. She ended up returning to town in a disguise. She made friends with Hartís son, R.J., and it came to light that she was in town when she rescued he & Cassie from a fire at Hartís old farm.

Dinah was sent to jail. She blackmailed both Jeffrey OíNeill & Edmund so that she could get the charges dropped and be a free woman. She convinced Cassie that she was sorry for killing Hart, so she was set free.

Always a manipulative woman, Dinah even played with Cassieís head when it came to light that her daughter had been seduced by a family member. Pretending to be a club owner, she called Cassie, inquiring about Tammy getting a job as a stripper in Chicago.

She vowed to take everything from Cassie that she never had, and she had feelings for Cassieís husband, Edmund Winslow. She teamed up with Jonathan Randall in order to help destroy the Winslow marriage. which worked. Cassie called off procedures that would give her and Edmund a baby.

Her family staged an intervention for her when they realized that she still wasnít adjusting to life in Springfield. Upset that her mother couldnít be bothered to make the trip from Europe, Dinah didnít take the intervention well. She claimed that she was a sitting duck and that her family simply wanted to tell her all the ways in which she was a bad person.

Having been told she was unlovable on more than one occasion by numerous people, Dinah vowed to change her image. In an effort to do this, she has started a new career at Spaulding Enterprises as Harley's right-hand woman. Dinah also began a relationship with A.C. Mallet, and she has grown in many ways. She surprised many people with her newfound patience, understanding, and hard-working nature. With this change has also gained her the friendships of Harley, Gus, Olivia, Frank, Blake, and even her own mother.
Dinah and Mallet were on the verge of getting married when she was shot in the head. Her personality changed drastically, and she got into all sorts of trouble (including sleeping with her mother's husband). Eventually Mallet moved on to Marina, and Dinah moved to a sweet relationship with Shayne.
Dinah left town for a while and ran into Shayne, who was filled with anger over his having lost his girlfriend, Lara, and the use of his legs. Dinah helped him through all that after they both came back to town. He walked again and let go of his past. It turned out that Lara was Edmund's daughter, and he became obsessed with avenging her death. Dinah found out that Lara had Shayne's baby. She had helped Mallet and Marina adopt a baby, which they named Henry, and that turned out to be Shayne and Lara's baby. Dinah thought she had killed Edmund in defending Shayne and Henry, but it turned out he wasn't really dead.
Page proofread by Laura 8/18/09
Back to the Main Guiding Light Character Descriptions Page
---
Buy Soap Magazines
Go here for great news & scoops, photos and in-depth articles!
Soap Opera Digest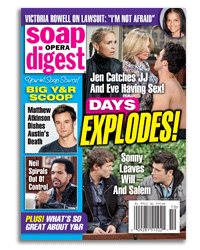 ---