PLEASE CLICK TO DONATE TO OUR SITE!!!!
This is just an unofficial fan page, we have no connection to "Guiding Light" or CBS.
PLEASE CLICK TO DONATE TO OUR SITE!!!!
Guiding Light Characters
Description by Elizabeth
Daniel "Danny" Santos
PLAYED BY:
Paul Anthony Stewart (originated role; November 11, 1998 to present)
ROMANCE:

Theresa Sandoval (lovers)
May Merisi (lovers)
Drew Jacobs (one-night stand)
Michelle Bauer (married, divorced and remarried)
Marina Cooper (dated)

CHILDREN:

Unnamed miscarried daughter (with Michelle)
Robert Fredrico Santos (with Michelle)
Hope Santos (with Michelle)

WORK:

Restaurateur
Former Land Developer
Former partner with Cassie Winslow & Tony Santos in the Tower Club
Manager of Infierno
Former executive at Spaulding
Formerly worked in The "Family Business"
Former college student

ABOUT:

Danny Santos came to Springfield in 1998 to find out who killed his brother, Mick, and then kill them. When Danny found out that it was Michelle Bauer who had killed his brother, he decided to marry her in an attempt to save her. Carmen, Danny and Mick's evil mother, was furious when she found out about what her son had done. However, Danny stood up to his mother, and eventually, he and Michelle fell in love.

Danny is a true romantic who loved Michelle with all his heart. The two made it through many tough times, including Carmen framing Michelle for murder, as well as the advances of Teresa Sandoval. Danny even gave up the family mob business for her, as well as helped to rescue her father from Africa. Regrettably, after a series of unfortunate events, Michelle was involved in a warehouse accident which left her with amnesia. The two had trouble remaining "connected" and became separated. Michelle became involved with his cousin Tony for a while, even though Danny and Michelle were trying to get their life back.

Michelle left town for a while, and Danny dated Marina. Danny discovered that Michelle had been kidnapped, so he rescued her, and she started to get her memory back. They were still going to divorce, until he rescued her again, and her memory came back completely. They were still not back together, even though they made love. Danny struggled with Tony, which resulted in Michelle saving Danny (and Tony falling to his death). Michelle left town. Later, Dinah appeared on Danny's doorstep with a child called Hope, saying it was his and Michelle's baby, stolen by Edmund. He rescued her again, and eventually they reconciled and remarried. They moved away to help her father, Ed, with recovery efforst in the gulf coast, and then they all moved to Springfield. They moved back in 2009 as the show ended.

Although Danny was a gruff and tough mobster at one time, there was always a soft side to him. For example, when he came across a troubled youth named Nico, he allowed Nico to stay with him to help get his life back on track.
Danny has always made sure that his wife and children were well taken care of, even when they were fighting or having other problems.

Page proofread by Laura 10/20/09

Back to the Main Guiding Light Character Descriptions Page
---
Buy Soap Magazines
Go here for great news & scoops, photos and in-depth articles!
Soap Opera Digest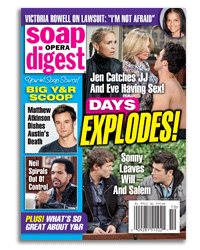 ---