PLEASE CLICK TO DONATE TO OUR SITE!!!!
This is just an unofficial fan page, we have no connection to "Guiding Light" or CBS.
PLEASE CLICK TO DONATE TO OUR SITE!!!!
Guiding Light Characters
Description by Elizabeth
Dr. Colin McCabe, MD
PLAYED BY:
Paul Fitzgerald (May 3, 2006 to August 11, 2006; November 10, 2006; January 19, 2007; June 29, 2007)
WORK:
Oncologist at Cedars Hospital
ROMANCE:
Cassie Winslow (dated)
ABOUT:
Dr. McCabe was brought onto the scene in 2006 as an oncologist shortly after Reva Shayne Lewis found a lump in her breast.
Initially, Colin seemed cold and distant. He was all about facts, figures, and cold hard truths. However, as Reva got to know her doctor better, so did the viewers. Together the two had some fun, despite the bleak health prognosis. Reva helped get the stiff doctor to loosen up, while he showed her that her health was something that needed to be taken seriously.
Through their time together, Colin revealed his reasons for becoming a doctor as well as bit more about his past.
He has never been married and had a twin sister, Maggie, who died. He left town and returned in 2007. Reva shared with him the secret of Jonathan faking his death. Later, he returned again when Reva was facing her cancer again. when Reva had a baby, she named him "Colin" after her good friend and favorite doctor.
Page proofread by Laura 9/8/09
Back to the Main Guiding Light Character Descriptions Page
---
Buy Soap Magazines
Go here for great news & scoops, photos and in-depth articles!
Soap Opera Digest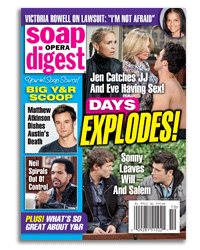 ---