PLEASE CLICK TO DONATE TO OUR SITE!!!!
Guiding Light Characters
Description by Elizabeth
Claire Ramsey
PLAYED BY:
Susan Pratt (April, 1983 to December 9, 1986; April 10, 2000 to August 16, 2002)
WORK:
Former doctor at Cedars Hospital
Former researcher for The Center for Disease Control and Prevention
CHILDREN:
Unnamed child (put up for adoption) (w/unknown man)
Michelle Bauer (w/Ed Bauer)
ABOUT:
Claire has always been an ambitious woman, wanting to put herself and her career above all else. She originally came to town in the early 1980ís and instantly became involved with a couple of different men. When one of them decided to propose, Claire turned him down.
Independent, Claire has made numerous mistakes when it comes to the men in her life. For example, she became pregnant when cheating on her boyfriend. Claire had the child, but she gave the daughter up for adoption.
Claire seemed to always regret the decision to have so little to do with Michelle, her daughter. Later in life, she went to extreme measures to prove her love to her.
In 2002, Claire disappeared from the canvas entirely. Some speculated that she may have returned to Chicago because she had often lamented how much she missed her life there.
Page proofread by Laura 10/13/09
Back to the Main Guiding Light Character Descriptions Page
---
Buy Soap Magazines
Go here for great news & scoops, photos and in-depth articles!
Soap Opera Digest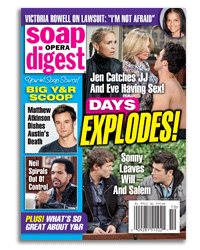 ---