PLEASE CLICK TO DONATE TO OUR SITE!!!!
Guiding Light Characters
Dr. Charles Grant, MD
Description by Elizabeth
PLAYED BY:
Ron Foster (July 1991 to 1995)
David Wolos-Fonteno (recurring 1995 to September 2000; July to August 2002; Spring 2003; January 2004; May 23 and August 23, 2006)
JOBS:
Chief of staff at Cedars Hospital
Member of the university committee at Springfield University
Cardiologist
ROMANCE:
Vivian Grant (married)
CHILDREN:
Gilly Grant (stepdaughter)
David Grant (with Vivian)
ABOUT:
Dr. Grant was big on the Springfield scene during the 90's. He was appointed chief of staff in 1996, and despite a hectic job, always tried to put family first. He and his wife often argued about how to raise the children. Their son David was put in prison for murder. Their daughter, Gilly, made them happy when she married Hampton. David returned and caused trouble between his sister and and Hamp; he also took up with Hamp's daughter, Kat. No one approved of that. Charles tried to make things better between himself and David.
Things got worse when both David and Gilly were charged with murders, but they were both innocent and eventually were let off the hook. This caused a big strain in Charles and Vivian's marriage. Later, Charles defended his wife to David when she interfered in his relationship with a girl. David had a hard time forgiving her, and this caused more family problems.
Charles helped his friend and colleague Ed to see that he needed to get help for his emotional problems. Once Ed left, Charles became chief of staff. Part of his job involved firing or suspending doctors that broke the rules, including Rick Bauer on more than one occasion.
An old friend of Vivian's, Griffin, came to town. Charles befriended him, but Vivian did not seem to want him around. It soon came out that Gilly was really the daughter of Griffin, not Charles. Charles already knew all this because he'd had a blood test done on Gilly when she was born. Their marriage couldn't survive the revelations, as well as the fact that she started another affair with Griffin. They split up, but they eventually reunited.
Page proofread by Laura 10/13/09
Back to the Main Guiding Light Character Descriptions Page
---
Buy Soap Magazines
Go here for great news & scoops, photos and in-depth articles!
Soap Opera Digest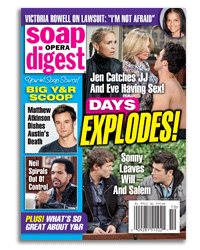 ---