PLEASE CLICK TO DONATE TO OUR SITE!!!!
Guiding Light Characters
Description by Elizabeth
Cassandra "Cassie" Elizabeth Rae Layne Winslow
Born – Danni Shayne
PLAYED BY:
•
Laura Wright (originated role; August 1, 1997 to November 3, 2005)
• Laura Stepp (temporary replacement; January 8 - 10, 2001)
• Nicole Forester (November 4, 2005 to present)
CHILDREN:
• Tammy Layne (with Rob)
• Roger Joshua Jessup AKA R.J. (with Hart)
• Unnamed stillborn child (with Richard; deceased)
• William Richard Winslow (adopted; with Richard)
• Unnamed miscarried child (with Edmund; deceased)
ROMANCE:
Rob Layne (divorced)
Billy Lewis (dated)
Hart Jessup (engaged; deceased)
Jim Lemay (dated; deceased)
Jeffrey O'Neill (lovers)
Dr. Colin McCabe (one date)
Richard Winslow (married; deceased)
Edmund Winslow (divorced)
Josh Lewis (divorced)
Cyrus Foley (one-night stand)
WORK:
• Partner in Lewis Construction
• Partners with Danny and Tony Santos in the Towers Club
• Former co-owner of the Beacon Hotel
• Former First Lady of San Cristobel
• Former Princess of San Cristobel
• Former secretary at Lewis Oil
• Former stripper
ABOUT:

Cassie's had a tough childhood. Her biological mother, Sarah Shayne, gave her up for adoption after she was born. Cassie was adopted by a family named Rae, and after a few difficult years with them, she was turned over to a foster family. She spent the rest of her youth in the foster system and married her high school sweetheart, Rob Layne, right after high school.
Rob and Cassie had a daughter, Tammy. Eventually, she and Rob split, and due to unfortunate financial circumstances, Cassie had to put her daughter into foster care. She began working at a strip club under the guise of the stage name Shady Lane. During her time at the club, she met Alan Spaulding and Annie Dutton, who helped rescue her from the stripper life.
She moved to Springfield, where she got a job at Lewis Oil. There she met Hart Jessup, who tried to help her win Tammy back. Not long after arriving in Springfield, she found out that Reva Shayne was her half sister. Although she and Hart were in love, he was staying with his ex-girlfriend, Dinah, because she had told him she was pregnant with her child. At the same time, Cassie found out that she was pregnant as well. In an effort to keep Hart away (she didn't want Hart to stay with her just because of the child), she remained quiet. Dinah, who was unstable, ultimately shot and killed Hart. She left town, not to be seen for many years. Cassie was heartbroken after Hart's death.
Cassie tried to help Reva, who had learned that she'd had a double life (due to amnesia) in the small island country of San Cristobel as Princess Catherine. Cassie was broke and almost lost the farm that Hart had left to her. After realizing that things between him and Reva wouldn't work out, Prince Richard offered Cassie a deal. He would help solve her money problems if she would give him an heir to the throne. Having already developed some feelings for Richard, she agreed. The two slowly fell in love with one another.
Richard and Cassie married one another and had a good marriage, until she found out that she was still married to Rob Layne. Apparently, he had never signed the divorce papers. After finding out that his ex-wife was married to a prince, he wanted to make as much money off her as he could. Trying to outwit him resulted in her daughter being kidnapped and Reva being knocked unconscious. In an effort to avoid being prosecuted for attacking Reva, Rob signed the divorce papers along with papers that gave her full custody of Tammy. Richard and Cassie were then free to marry one another and had a full royal wedding.
Their happiness didn't last long, though. Richard's brother, Edmund, was hell bent on getting Cassie out of his brother's life. Edmund tried everything, including bribing doctors. Richard believed in Cassie, and together they uncovered a family secret, that Richard was not the real heir to the throne. His mother was apparently an unnamed woman and not his father's wife, Princess Charlotte. This left Edmund as the true heir, and he eagerly took the throne. As the island's prince, he declared martial law on the island and attempted to kill both Cassie and Richard. During one accident, Reva temporarily went blind. Eventually, after Edmund was forced to vacate the throne, Cassie convinced her husband to run for President of San Cristobel. While trying to have children with Richard, it was brought out that Richard had a brother, Alonzo Baptiste. Richard's right hand man tried to manipulate Cassie and Richard into adopting Alonzo's son, in hopes that he would want his child back and find out the information about his true heritage. Eventually, Alonzo was forced to accept being prince of the island when his ex-girlfriend (and mother of his child) blackmailed him into doing what she wanted. Alonzo appointed his brother, Richard, as ambassador. Cassie and Richard moved back to Springfield.
In Springfield, Cassie was shocked to learn that she owned one half of a hotel as part of her inheritance from Hart. Her partner was Olivia Spencer, and the two had many disagreements. Richard had almost no money left and confessed this only to Reva. He began working as a used car salesman, and one night he got into an accident on the way home from work. He was in a coma for a long time, and eventually, he died. Cassie had a hard time with his death, especially when she found out that her sister was the one who pulled the plug on him. Also, she still had money problems and was forced to sell her engagement ring in order to pay some bills. Always a proud person, Cassie refused financial help from any family or friends, but ultimately she had to turn to someone. She borrowed money from the mob, against the wishes of former mobster Danny Santos.
Cassie helped save Reva while she was being prosecuted for murder (because of pulling Richard's plug). Although she testified against her, Cassie remembered a living will that Richard had, which helped get her sister a new trial.
Cassie's life took another twist when she found Danny Santos on the beach one night, critically wounded. She helped nursed him back to health in Reva's pool house.
Not long after that, Edmund approached Cassie, wanting to set up a library to dedicate to his half-brother, Richard. Cassie was rightfully nervous about this, but in the end, she found herself drawn to him. Not long after, a man named Jeffrey came to town who was the spitting image of Richard. He saved her life when she was protecting a Beacon Hotel guest on the roof. Still, she many positive changes in Edmund, so they grew closer, despite some minor setbacks. Edmund ultimately proposed to Cassie.
They married in the barn at the Jessup farm, where not long before there had been a fire (started by Edmund) in which Cassie and her son, RJ, had almost lost their lives. Right before her wedding, she also tried to stop her sister's son, Jonathan, from staying in town, but her plan backfired. Edmund forgave her for her indiscretion with Jonathan; he blamed him, not her. Edmund and Cassie decided to start fresh and not let anyone or anything come between them. Cassie and Edmund even decided to try having a baby. Moments before finishing up with a fertility procedure, Cassie called the whole thing off. She had found out that Edmund started the barn fire.
Despite all that she has gone through in her life, Cassie remains devoted to her family. She was especially close to her sister, Reva and daughter, Tammy. Cassie was involved with Jeffrey for a while, in part because he looked so much like Richard. They had an on-again/off-again relationship.
Cassie started a relationship with Reva's ex-husband, Josh, even though everyone was against it because they all think that Reva and Josh belong together and will always get back together, no matter what. They took things slow and eventually fell in love.
Cassie deeply grieved when her daughter, Tammy was hit by a car and killed in January of 2007. She never really did get over it. She blamed Alan, who had hired a hit man to kill Jonathan, who was with Tammy. Josh helped Cassie with her grief, and they were married.
Cassie decided that instead of having a baby with Josh, she wanted to get her son Will back from Alonzo. They had to go to San Cristobel to get Edmund to help them with this. During the visit, Alonzo was murdered, so Cassie got custody of WIll. They all returned back to Springfield.
It soon became clear (to viewers, anyway) that Will was not a normal kid. He was very violent. Josh was the first one to become suspicious, and his accusations put a big strain on his marriage to Cassie. Eventually, after Will tried to kill Josh and Reva, Cassie turned him in to the police.
Josh and Cassie faced many other obstacles, especially with Reva and Josh being constantly drawn to each other. They finally split after Cassie had an affair with Cyrus. Then she found out that Cyrus' brother, Grady, was behind the wheel of the car that killed Tammy. Josh had already been moving back to a relationship with Reva, anyway.
Cassie left town in 2008, despite Reva's begging her to stay. She and R.J. moved to Hawaii.
Page proofread by Laura 10/13/09
Back to the Main Guiding Light Character Descriptions Page
---
Buy Soap Magazines
Go here for great news & scoops, photos and in-depth articles!
Soap Opera Digest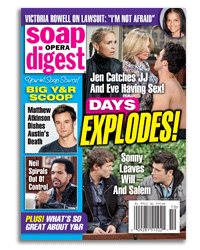 ---