PLEASE CLICK TO DONATE TO OUR SITE!!!!
This is just an unofficial fan page, we have no connection to "Guiding Light" or CBS.
PLEASE CLICK TO DONATE TO OUR SITE!!!!
Guiding Light Characters
Description by Elizabeth
Carmen Santos
PLAYED BY:
Saundra Santiago (January 8, 1999 to June 6, 2000; November 10, 13 and 14, 2000; August 10th, 2001 to January 2, 2003)
WORK:
crime

ABOUT:
Carmen Santos originally came to town in 1999 to find out who killed her youngest son, Mick. She enlisted the help of another son, Danny, to do this. As a member of the mafia, she placed a lot of value on her family and how they were viewed by the outside world. However, she wouldn't rule out killing someone in her own family if it meant getting more power.


Numerous times, Carmen placed a hit on Michelle Bauer's life. She hated her for killing Mick and then marrying Danny. She also blamed her for Danny wanting to change and make the business legitimate. Carmen was always hoping that her son would wake up and get rid of Michelle.

She would go to extreme lengths to get what she wanted and was not threatened in the least by men. There was a time when she held an axe to the throat of Ben Warren simply to gain information from him. Carmen also faked her death many times, including faking suicide to get out of prison.


Placing a lot of importance on family, but in her own twisted way. She tried to kidnap her own grandson, claiming that he would be better of with her in Cuba. It was that act – attempting to kidnap Robbie - that eventually landed her in trouble. She was involved in a fight with Bill Lewis while trying to take Robbie. Her head hit the floor hard and she lapsed into a coma. She is still at Cedars, comatose.
Page proofread by Laura 10/6/09
Back to the Main Guiding Light Character Descriptions Page
---
Buy Soap Magazines
Go here for great news & scoops, photos and in-depth articles!
Soap Opera Digest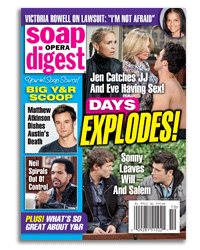 ---