PLEASE CLICK TO DONATE TO OUR SITE!!!!
This is just an unofficial fan page, we have no connection to "Guiding Light" or CBS.
PLEASE CLICK TO DONATE TO OUR SITE!!!!
Guiding Light Characters
Description by Elizabeth
Brent Lawrence (AKA – Marion Crane)
PLAYED BY:
Frank Beaty (February 14, 1995 to June 27, 1995; August 14, 1995 to January 3, 1996; January 16 to 17, 1996; January 26, 1996; January 29 to 31, 1996; February 8 to 16, 1996)
Marc Wolf (temporary replacement for an ill Frank Beaty, January 5, 1996; January 9 to 10, 1996; January 12, 1996; January 19, 1996; January 22, 1996; February 2, 1996; February 5 to 7, 1996)
WORK:
Former executive at Spaulding Enterprises

ABOUT:
When Brent Lawrence came to town, he began working for Spaulding Enterprises. He seemed like a nice guy and even managed to go out on a few dates with Lucy Cooper. That's when things got interesting.

After a couple dates with Lucy, she still wouldn't sleep with him, so Brent drugged and then raped her. She never told anyone, until Brent decided to threaten her at the boardinghouse one night. Alan-Michael Spaulding walked in and heard everything.

Brent then blackmailed Alan-Michael to step down as head of Spaulding. Apparently, Brent had "cooked the books" to make it look like Alan-Michael had embezzeled.

Later, they were able to get Brent to confess on a video tape about what he had done. With the threat of going to jail looming, he decided to leave town. However, he reappeared not too long after leaving.

During a fight with Lucy & Alan-Michael on the docks, he was shot and presumed dead. Since she was raped, Lucy had an HIV test done; fortunately, it came back negative.


Not long after his death, a new woman named Marian Crane came to town. She worked at Spaulding and stalked Lucy. Marian was really Brent in disguise. He also killed Nadine Cooper when she came snooping around his apartment.

Eventually, Lucy learned the truth, after she and her fiancé Alan-Michael were kidnapped. Brent was arrested and sent to a mental institution, where he stayed in his "Marian" persona.
Page proofread by Laura 10/6/09
Back to the Main Guiding Light Character Descriptions Page
---
Buy Soap Magazines
Go here for great news & scoops, photos and in-depth articles!
Soap Opera Digest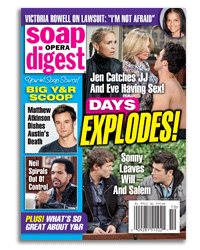 ---