PLEASE CLICK TO DONATE TO OUR SITE!!!!
Guiding Light Characters
Description by Elizabeth
Christina "Blake" Thorpe Marler
PLAYED BY:
Gina Foy (recurring, June 1975 to May 1978)
Cheryl Lynn Brown (recurring, January 1979 to August 1980)
Elizabeth Dennehy (May 1988 to June 27, 1989)
Sherry Stringfield (July 21, 1989 to August 3, 1992)
Elizabeth Keifer (August 19, 1992 to present; Recurring August 2003 to present)
WORK:
Realtor
Ran "Harley's Angels", a non-profit detective/legal aid service with Harley & Mel
Spaulding Enterprise Board Member
Ordained Minister
Romance Novelist under the name Darlena LaCrosse (books: One True Love, and Hearts Alone)
Briefly worked as Dr. Eve Guthrie's assistant at Cedars
Briefly worked at WSPR
Public Relations Specialist
Former PR for Spaulding Enterprises

CHILDREN:
Kevin Ross Marler (with Ross)
Jason Frederick Marler (with Ross)
Clarissa Marler (with Ross)

ROMANCE:
Alan Spaulding (lovers)
Johnny Bauer (dated)
Gary Swanson (lovers)
Leo Flynn (dated; platonically)
Alan-Michael Spaulding (divorced; later lovers)
Rick Bauer (affair)
Ben Warren (affair; deceased)
Ron Steele (dated, platonically)
Phillip Spaulding (divorced; deceased)
Alan-Michael Spaulding (divorced)
Ross Marler (divorced; remarried; deceased)
Gus Aitoro (kiss; deceased)
Ron Steele (dated, platonically)
Jeffrey O'Neill (lovers)
Frank Cooper (former lovers; dating)

ABOUT:

Blake was the product of an affair between Holly Norris and Roger Thorpe. For the first few years of her life, Holly (who at that time was married to Ed) hid the fact that Blake wasn't his daughter from him. Her biological father, at one point, had plans to kidnap her, but her mother saved her by taking her out of the country.

When Blake returned to town in the late eighties ,she was all grown up and full of spunk. Blake is a woman who will go to any lengths to get what she wants. For example, when it looked like her relationship with Alan-Michael was on the rocks, Blake faked a pregnancy to get him to marry her. She then faked a miscarriage soon after the honeymoon.
Blake hasn't always had the best relationship with her mother. Blake originally seduced Ross Marler because he was her mother's ex-fiancÚ. She knew that her mother still cared about him; she was willing to go to any length to hurt Holly. Ironically, though, Blake ended up falling in love with Ross. Since then, Blake and Holly have mended fences and continue to get along fairly well. She even defended her mother when the police suspected that Holly could be Reva's stalker.
Though she and Ross never did agree on some things, such as Dinah (Ross's biological daughter), they truly loved one another. Sadly, Ross was killed and left her alone. After having a few lovers, she tried online dating and ended up meeting her old flame, Frank Cooper.
Blake got along well with her father, despite the many mistakes he made. The two always had a close bond, and she was devastated to learn of his death in September of 2004.
Blake has recently found out she has a brother, Sebastian. When he originally came to town, she bonded with him right away. Some may say that one of the reasons they got along so well was because he was so much like Roger Thorpe.
Page proofread by Laura 9/8/09
Back to the Main Guiding Light Character Descriptions Page
---
Buy Soap Magazines
Go here for great news & scoops, photos and in-depth articles!
Soap Opera Digest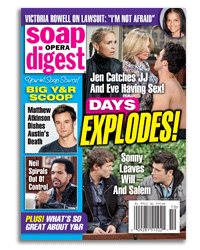 ---