PLEASE CLICK TO DONATE TO OUR SITE!!!!
Guiding Light Characters
Description by Elizabeth
Harlan Billy Lewis III A.K.A. Bill
PLAYED BY:
Renauld White (November 1984 to 1986)
Bryan Buffinton (July 14, 1989 to February 17, 1998)
Ryan Brown (July 14, 1998 to March 27, 2001)
Daniel Cosgrove (June 5, 2002 to present)
First arrived on Guiding Light: November 1984
ROMANCE:
Candy (dated)
Pilar Santos (lover)
Beth Raines (also as Lorelei Hills; lover)
Michelle Bauer (dated)
Eden August (engaged)
Olivia Spencer (married, divorced)
Lizzie Spaulding (married)
WORK:
Partner in Slingshot Enterprises
Stockholder at Spaulding Enterprises
Formerly Danny Santos's campaign manager
Former President of Lewis Construction
Former computer programmer at SanCorp
ABOUT:
Bill is the son of Vanessa Chamberlain and Billy Lewis. His best friends growing up were his cousin, Ben Reade (now deceased), and Michelle Bauer. Michelle and Bill grew apart after a disagreement with her choices in men. For a long time, Bill had feelings for Michelle. They even tried dating at one point, but theydecided they would be better suited as friends.
At one point, Bill had a problem with alcohol, just as his father did. When his fiancée Eden left, the Lewis family suspected that the problem might be rearing it's ugly head once again. Luckily, it was all worry and nothing came of it.
Later, he joined forces with both Olivia Spencer and Harley Cooper. He and Olivia formed Slingshot Enterprises and were partners. He was also married to Olivia and developed a strong sense of family. He was even discussing adopting Olivia's daughter, Emma.
Bill is a kind man, with a good heart; he is always supporting those of his friends who need it.
Page proofread by Laura 8/11/09
Back to the Main Guiding Light Character Descriptions Page
---
Buy Soap Magazines
Go here for great news & scoops, photos and in-depth articles!
Soap Opera Digest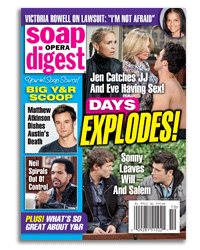 ---