PLEASE CLICK TO DONATE TO OUR SITE!!!!
Guiding Light Characters
Description by Elizabeth
Elizabeth "Beth" Ann Raines Bauer Spaulding Lemay Winslow
PLAYED BY:
Judi Evans (May 1983 to July 1986)

Lisa Loughridge (temporary replacement 1986)

Beth Chamberlin (September 1989 to February 1991; November 1, 1997 to October 17, 2003; Recurring October 20, 2003 to present)
First arrived on Guiding Light: 1983
ROMANCE:
Brandon "Lujack" Spaulding Luvonaczek (engaged; deceased)
Jackson Freemont (dated)
Neil Everest (lovers; deceased)
Carl Stevens (lovers; deceased)
Rick Bauer (lovers)
Ben Warren (lovers; deceased)
Jim Lemay (deceased)
Edmund Winslow (divorced)
Bill Lewis (lovers)
Jeffrey O'Neill (lovers)
Henry Cooper Bradshaw (lovers; deceased)
Alan Spaulding (lovers; deceased)
Phillip Spaulding (engaged)
CHILDREN:
Elizabeth "Lizzie" Spaulding (daughter with Phillip Spaulding)
James Spaulding (son with Phillip Spaulding)
WORK:
Spaulding Enterprises board member & stockholder
Formerly worked at Sampson-Lewis Oil
ABOUT:
Beth has always seem to have her hands full. Whether she's taking care of her daughter, or trying to convince her ex-father-in-law not to go through with something, she always keeps busy.
One of the original 'Four Musketeers', Beth had a hard childhood. She was raped and abused by her mother's second husband, Bradley.
However, Beth is not one to stand idly by. She will and has protected herself, by all means necessary. She even had to kill her boss, Professor Blackburn, in self defense.
Beth also had to endure a lot of trouble from Phillip's father, Alan, when he found out that the two of them liked one another. He even convinced the town, at one point, that Beth was dead, when he knew otherwise. Through the years, Beth developed a father-daughter bond with Alan, despite their rocky past. They were later married, and she had his child. That all ended, though, when Phillip came back to town (he was thought dead, too). He and Beth eventually reunited and were headed to the altar when we last saw them.
Page proofread by Laura 9/8/09
Back to the Main Guiding Light Character Descriptions Page
---
Buy Soap Magazines
Go here for great news & scoops, photos and in-depth articles!
Soap Opera Digest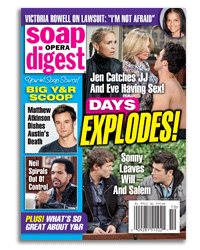 ---