PLEASE CLICK TO DONATE TO OUR SITE!!!!
This is just an unofficial fan page, we have no connection to "Guiding Light" or CBS.
PLEASE CLICK TO DONATE TO OUR SITE!!!!
Guiding Light Characters
Description by Elizabeth
BEN WARREN, Esq.
Deceased
PLAYED BY:
| | |
| --- | --- |
| | Hunt Block (November 5, 1997 to November 16, 1999; December 13, 14, & 24, 1999; February 21, 2000) |
ROMANCE:
Selena Davis (one night stand)
Beth Raines (lovers)
Blake Marler (lovers)
Carmen Santos (lovers)

CHILDREN:
Drew Jacobs (daughter with Selena Davis )

WORK:
Former president of SanCorp
Former lawyer
Former District Attorney

ABOUT:
Ben was Ross Marler's evil half-brother. He came to Springfield in 1997 with one intent - to hurt Ross as much as he could. Ben felt that Ross was responsible for his lousy childhood. He planned to take everything that Ross had away from him.
Once in town, he quickly offered to be Rick Bauer's attorney and to help him try and gain custody of Kevin Marler (who at the time was believed to be Rick's son). He also hit on Blake and dated Dinah. He then decided that his time would best be spent on trying to win Blake away from his brother. When it became apparent that he truly cared about her, Black and Ben gave one another some much needed space. Eventually, they made love, but Ross walked in on them and thought his brother was attacking his wife. He even pulled out a gun, with the intention of shooting Ben. Unfortunately, Ross ended up shooting Blake. Blake ended up fearing for Ben and his safety, so she came clean, telling everyone the truth about what had happened.
After he found Annie Dutton for Alan Spaulding, Ben successfully defended her, but Alan reneged on his agreement to give him control of Lewis Oil. Not liking to be double-crossed, he decided that he would exact revenge on Alan by using Vicky and Bill while president of SanCorp.
Right before Ben's death in 1999, he discovered that he had a daughter, Drew Jacobs, from an affair with Selena Davis many years before. Surprisingly, he was pleased at having a child. Sadly he never got to know her. Ben was first shot by his current girlfriend, Carmen Santos, when she saw him kissing her daughter, Pilar, who was trying to set up Ben. The person who killed him, however, was Vanessa Reardon, who accidentally shot Ben when he grabbed her.
Page proofread by Laura 10/6/09
Back to the Main Guiding Light Character Descriptions Page
---
Buy Soap Magazines
Go here for great news & scoops, photos and in-depth articles!
Soap Opera Digest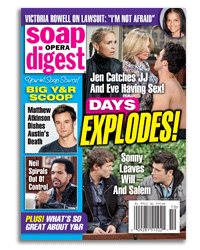 ---