PLEASE CLICK TO DONATE TO OUR SITE!!!!
This is just an unofficial fan page, we have no connection to "Guiding Light" or CBS.
PLEASE CLICK TO DONATE TO OUR SITE!!!!
Guiding Light Characters
Description by Elizabeth
Benjamin "Ben" Louie Stoddard Reade
Deceased
PLAYED BY:
Gregory Burke (November 29, 1989 to 1996)
Brian McElroy (1991)
Matthew Bomer (November 19, 2001 to July 31, 2003)
ROMANCE:
Single
WORK:
Former employee at the Garden of Eden escort service
Former employee at Spaulding Enterprises
Former lifeguard
Former teaching assistant
Former student
ABOUT:

Ben was born in May, 1986, which was revised to 1980 when he turned nine in 1989. The biological son of Kyle Sampson and the late Maeve Stoddard, Ben was raised by his adopted father, Fletcher Reade, who had married Maeve in July 1988, shortly before she perished in a helicopter crash. As Ben Fletcher, Ben grew up to be a confidant, uncomplicated young man spending many happy times with his best friends, Michelle Bauer and Bill Lewis. After Fletcher and his new wife had a baby born with Down's Syndrome, Ben felt he was in the way and asked to go to boarding school.

When he returned in 2001 with his mother's inheritance, he immediately tried to bed the virginal Marah; then he fell in love with Marina. Soon he lost his fortune but still spent lavishly. In need of employment, Ben became the escort of Ramona Hendon, who blackmailed him into staying with her. After Eden refused to help him, on the night of Marina's 18th birthday, Ben went to confront Ramona, only to find her dead. The prime suspect in Ramona's murder, Ben lost Marina that same night when she discovered the truth. Without Marina, Ben sunk into despair and soon became one of the prime suspects in a series of murders involving people connected to Eden's escort service. The case against Ben looked grim when a young woman went to the District Attorney, Jeffrey O'Neill, with the fear that Ben had killed her high school friend, Bridgit Waters, two years earlier.

More and more obsessed with Marina, Ben confronted her at her prom, where he clearly became unhinged in front of Marina's father, Frank. Later, he confronted her again at the Bauer Barbecue before being thrown out by Frank. Though Marina softened toward Ben after he was attacked at the barbecue by Ramona's husband, her anger returned when she realized Ben was using his vulnerable position to manipulate her. Though he ended up being cleared of Ramona's death, since it was discovered that her husband killed her, the police were still looking into the other murders.

Finally, in late July, Ben learned that he'd received a $1 million inheritance from his late grandmother, Julia Stoddard, and so he thought he could use it to win back Marina. He tracked her to the Bauer cabin, where he found her with Shayne. Upset, he kidnapped her. Ben told Marina that everything would be back to the way it was as he took her to a secluded cabin. Unbalanced, Ben told her that her first time should be special. Suspecting something horrible in his past, Marina asked if his wasn't. Ben told her his story about being a good boy and volunteering to go to boarding school, only to be molested by a teacher and feeling ashamed because of it. Promising to make it different for her, Ben tried seducing Marina, who told him she didn't want to make love. When Shayne burst in to save Marina, Ben attacked him. After Marina tried to stop him with a hatchet, Ben threatened to kill Shayne by lethal injection. Though she tried to talk him down by appealing to the intelligent, sensitive Ben she had known, he insisted that that man was gone -- he was empty inside. When Frank burst in, Ben grabbed Marina and threatened to kill her. Though Frank convinced him to let her go, Ben stabbed himself with the needle in order to save her from him. Seeing him near death, Marina went to him and told him to fight for his life. Surprised that anyone would cry for him, Ben asked Marina to never forget him, and then he lost consciousness.

At the hospital, Ben confessed to Jeffrey that he killed Bridget Waters after she laughed at him for refusing to sleep with her. Then, after Coroner Jed Simmons found her body, he killed Jed to cover his crimes. Unfortunately, Jed had told a female escort, Renee, about his find, and she, after figuring out Ben was connected to it, blackmailed him and told her roommate Arianna. His awful story finally out, Ben told Ross to give his entire inheritance to Marina. After a visit from his oldest friends, Michelle and Bill, as well as Blake and Holly, a tormented Ben Reade died on July 31, 2003.
Page proofread by Laura 10/20/09
Back to the Main Guiding Light Character Descriptions Page
---
Buy Soap Magazines
Go here for great news & scoops, photos and in-depth articles!
Soap Opera Digest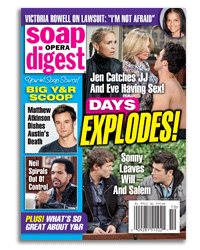 ---