PLEASE CLICK TO DONATE TO OUR SITE!!!!
Guiding Light Characters
Description by Elizabeth
AVA PERALTA
PLAYED BY:
Michelle Ray Smith (August 24, 2005 to 2009)
WORK:
Waitress at CO2 and Company
Former assistant to Olivia Spencer
Former waitress at Outskirts
ROMANCE:
Jerry (dated)
Henry "Coop" Bradshaw (lovers; deceased)
Alan-Michael Spaulding (dated)
Remy Boudreau (lovers)
Sandy Foster (divorced; deceased)
Bill Lewis (annulled)
ABOUT:
Ava first appeared in Springfield at Outskirts when she ran into the arms of Jonathan Randall. He ended up helping her because a loan shark was on her tail. She and Jonathan then began working together, and later they became friends.
Since she was first seen, Ava has shown herself to be hard working, determined, and stubborn, as well as secretive. For example, she hid the fact that she was married to Sandy Foster.
Ava appears to care deeply for those in her life. Once they are in her heart, it is hard to get them out. This was evidenced by the way she wanted to remain married to Sandy, despite his having left her.
She has also been accepted into the Cooper family; she and Coop were good friends. Buzz, Frank, and the whole gang have almost adopted her as one of their own. Ava was interested in Coop for a while romantically, but he was more interested in Lizzie at the time.
Since moving to Springfield, Ava has had some major changes happen in her life. The most obvious one was that she found out that she was adopted by the Peraltas. This was a shock to her. Even more shocking was that both of her biological parents were living in Springfield, and that she was a product of rape. Olivia Spencer is her mother, and Jeffrey O'Neill is her father. When the news came out, they both did not know how to handle it or how to deal with her. Eventually, they all learned how to get along.
Ava acted badly for a while, in part because she was afraid of Olivia's dying. She schemed to steal Bill from Lizzie. She got pregnant and tried to pass the baby off as Bill's. However, it was really Remy's baby, which soon became obvious after the baby was born (since it was black). She and Bill were briefly married but then had the marriage annulled. Ava got post-partum depression and went off to a clinic to deal with it, but then the baby died, and it was a great loss to everyone, especially Ava. The tragedy seemed to shock her back into being a good person. She tried to convince Remy to leave town with her, but he was already seeing someone else. She left alone, although she did come back for a brief visit.
Page proofread by Laura 10/6/09
Back to the Main Guiding Light Character Descriptions Page
---
Buy Soap Magazines
Go here for great news & scoops, photos and in-depth articles!
Soap Opera Digest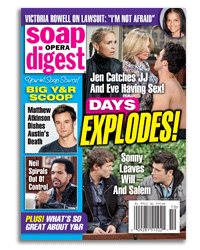 ---