PLEASE CLICK TO DONATE TO OUR SITE!!!!
Guiding Light Characters
Description by Elizabeth
Ashlee Wolfe
PLAYED BY:
Caitlin Van Zandt (recurring, April 25, 2006 to present)
ROMANCE:
Coop (lover, deceased)
WORK:
Assistant at WSPR
Former Volunteer for Blake Marler's mayoral campaign
Waitress at Company
Former student
Worked at her uncle's free health clinic
ABOUT:
Ashlee Wolfe is the daughter of the hard nosed DA, Doris Wolfe. Ashlee seems to be completely unlike her mother. In fact, the two get along about as well as oil and water.
Ashlee is a young girl who seems to be starving for attention. Most of her actions are spawned by her emotions, and by the few friendships that she has in town. Unfortunately, that also means that Ashlee can be easily manipulated by those she sees as her friends. This happened when Lizzie Spaulding came to Ashlee for help in faking her conception date.
Luckily, Ashlee is growing less na´ve as she gains more friends in Springfield.
Page proofread by Laura 8/11/09
Back to the Main Guiding Light Character Descriptions Page
---
Buy Soap Magazines
Go here for great news & scoops, photos and in-depth articles!
Soap Opera Digest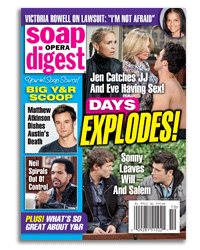 ---